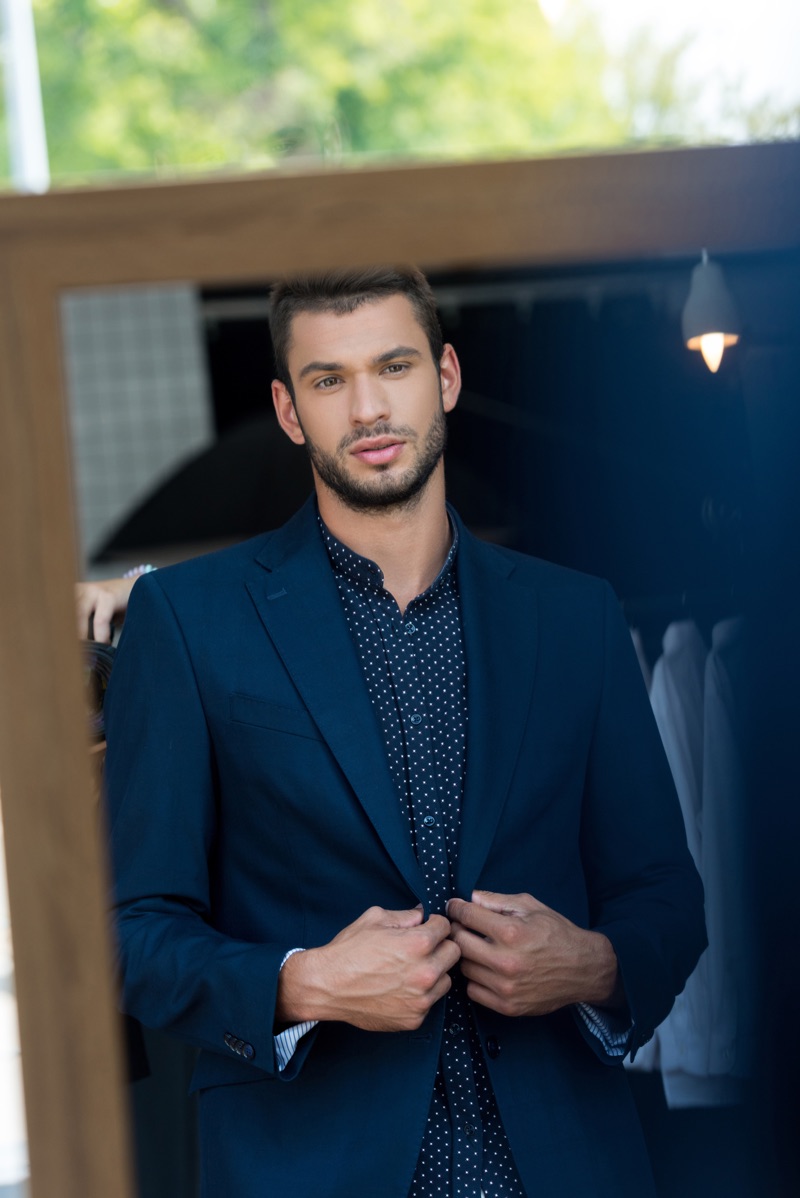 Shopping is not easy; especially, if you are one of those guys who hate trying different clothes before buying one. It is time-consuming and often not even worth it when you finally choose not to buy.
However here's the problem: Without trying the garment, you can end up buying something that looks terrible on you. The garment looks different on a mannequin, from how it would look on you. This compels you to try it before a purchase decision.
Nevertheless, who wants to waste so much time just trying different clothes?
And, this fear prevents you from going shopping. The vicious circle continues and you end up wearing the same boring clothes.
But, wait, you can also enjoy shopping the way others do. Thanks to the augmented reality developers who persistently bring innovative solutions for the trendy guys.  
The augmented reality technology comes as a boon for those men who do not like to waste their time trying so many clothes. So, now you have the perfect opportunity to shop for your favorite clothes.
So, let's see how it works!
The Interactive Mirror for Those Who Hate Fitting Rooms
The interactive mirror would appear to you like any other dressing room mirror. But, no, it isn't the same. This virtual fitting room will not expect you to try the garments, one after another.
It doesn't use a mannequin or a virtual model either.  
You can just stand in front of the mirror with your clothes on. While you can view yourself in real time, this augmented reality-based mirror puts the garment overlays on your image. And you can see how it appears on you, without going through the hassles of actually wearing it.
Considering the Variations Was Never as Easy
Considering options has never been easier. With the virtual trial room mirror, you don't have to move around the store browsing for the alternatives.  
And, I know you don't want the store assistant to accompany you everywhere while you are shopping. Shopping is fun when you can independently look for options and variations.    
With an interactive mirror, the customer can test for himself how the color and texture of the chosen garment looks on him. And, if he chooses to try another color, he can just pick it up from the interactive menu on the mirror.
The mirror will show you the image with the same garment in color selected by you out of the different color options available.
The different range of garments is available for you to select and the menu on the mirror is doing the rest of the effort. What more can you expect! You are getting a glimpse of all the available stock and the variants as well.
Moreover, the technology just uses an overlay. The movements of the customer are captured and shown with the garment that he is trying, virtually. Like those amazing augmented reality games, that give a real simulation effect, the experience is much more enticing than just fulfilling your shopping needs.
This Is Not All!
There is a lot more to it, and the experience is improving day by day.
Owing to the popularity of this technology among the customers, more and more retailers are bringing this experience to their stores.
And, with hardly any human assistance required, the stores do not have to hire many shop floor helpers. They can display their wide range of products conveniently. Their customers love it for the convenience that it offers.
So, hopefully, you will not have to wait for long till your favorite store also gets one for you.
Conclusion
With augmented reality technology making it so easy, there is no reason to avoid shopping anymore.
And you are not alone; there are many like you who would not like to waste their valuable time trying clothes at fashion stores. But, you also deserve your share of the fun.
Your favorite store doesn't have a virtual mirror already? Then there are those augmented reality-based virtual dressing room apps as well, which even let you try clothes at the convenience of your home.
And, this is not all; many e-commerce stores are coming up with innovative ideas to improve your shopping experience.  
Author Bio
Jin Markov is a Content Writer with GoodFirms.co, a research firm in the USA. He has an experience of 5 years and has been writing on areas related to fashion and marketing.