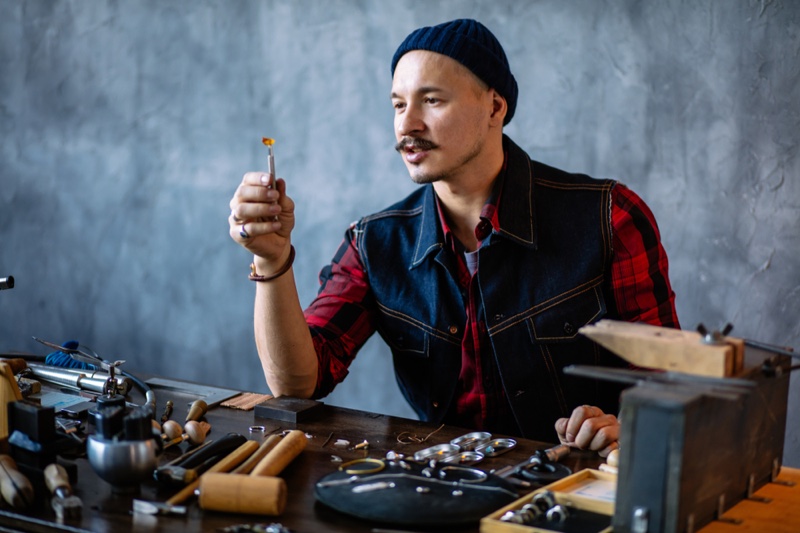 If you had a child recently and the idea of teething makes you cringe, the Amber necklace can help your toddler to overcome the painful experience by putting it on the neck. Amber necklace use on toddlers is not a new idea though new moms are learning of it nowadays and help to soothe their babies teething problem.
Amber (necklace) is made of Baltic amber or fossilized resin of a tree. Amber works after getting triggered by the toddler's body heat, which in turn releases a very tiny amount of oil containing succinic acid. The acid is further absorbed in the baby's bloodstream. Advocates say the absorbed oil has an analgesic effect that relaxes the swollen sore gums.
How Long Until They Start Working
There is no set time for Amber to start working. Many parents who have used it give a varying answer to when the necklace should begin working on your baby. Some say they take time before they start working, while others have found it to be effective immediately. Something to note is when you buy Amber, do not expect the effect to begin immediately. Adults are advised to commit wearing it for 3 to 4 weeks. By that time, Amber would have been activated, and by the time you are putting it on your baby, it's ready to start working.
Also, amber jewelry may take time before you see any difference depending on the size of the body and the extent of the problem. The time it takes before you see the effect can be likened to food supplement, which after taking, does not show its effect immediately.
How long Does Amber Jewelry last before it needs to be replaced?
There is no given period to when amber should be replaced. Before you replace amber jewelry, several reasons may necessitate that to happen. For one, amber doesn't wear out, but for amber and Hazelwood, necklaces are required to be replaced every 6 to 12 months. If your necklace has Baltic Amber alone, that does not need to be replaced.
Of course, some cases of wear and tear are unavoidable, especially if using the jewelry on a toddler. And you'll need to replace it from time to time until your baby passes the teething stage.  The necklace may require a replacement if it has much build-up from every day wear, and the look cannot get clean. For adults, even though the necklace may experience regular wear, an Amber necklace or bracelet should last a long time.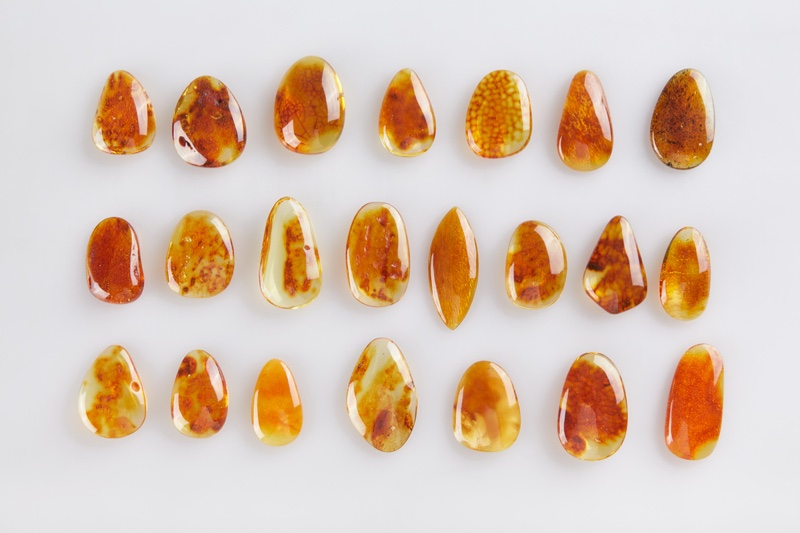 Why Use Amber after 3 Years of Age?
In the US, it is a requirement for products with small parts to label them 36 months or older. Sellers have to abide by these regulations, and therefore, by the time you are purchasing any amber products, they all exceed 36 months. The necklaces are designed with safety measures, and every bead is knotted between such that if one comes out, the others will not start to fall off.
Other benefits that are put in Amber for safety are the design of amber size which is small to prevent the baby from choking. Also, in case the toddler swallows the bead, it is natural and non-toxic.
Mistakes to Avoid When Buying Amber
Avoid Purchasing Fake Amber from Imposters
Original amber should start the effect when they come into contact with your baby's skin. The skin releases succinic acid to the body, which, after it is absorbed into the skin, works naturally like Ibuprofen by reducing inflammation and blocking pain. The acid and works block the puffy red gums causing pain on your baby's gum against the inflammation.
Amber market is growing and in the process has attracted imposters selling counterfeit products to mothers unaware. Good amber should come from a Baltic region as they record higher rates of succinic acid than any other place.
For instance, Lithuania is known to produce 100% authentic Baltic amber. So, when purchasing, make sure you are getting from a reputable dealer to get the right product for your baby.
Some of the common imposter's amber selling in the market are here below:
Phonelic Resins – This type is designed with artificial amber beads
Celluloid – You may confuse it with original amber, but it is a counterfeit
Casein – This is a plastic-type designed from milk
Pressed Amber – This type of amber is subjected under high pressure, which in the process compresses natural pieces making the succinic acid in them less effective.
Copal – Some dealers will sell to you copal type of amber, which is yet to mature and can be classified as adolescent amber, which is when used rarely brings any effect.
Unless you are careful in your buying process, you may end up getting duped and castigating amber necklaces as a big lie.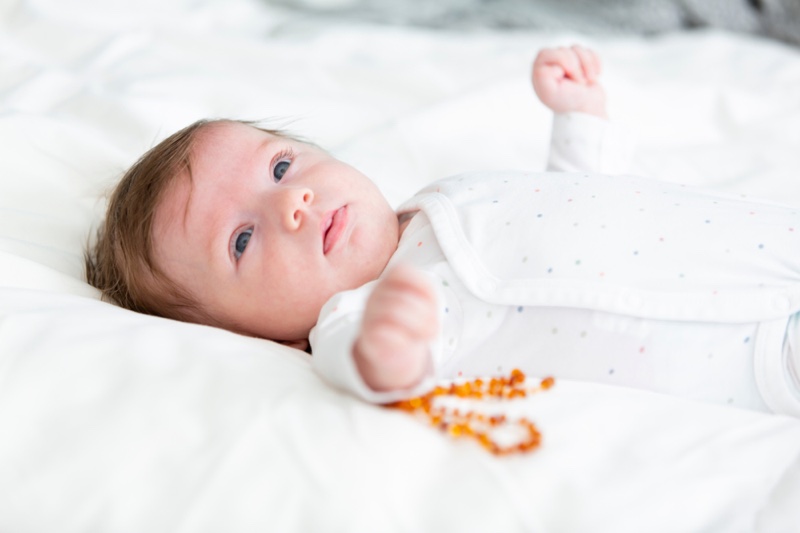 Avoid Choosing the Wrong Design
You have to be careful when purchasing baby amber as most of the time; it will be resting on their skin and under the clothing. You, therefore, need to observe some safety features that may endanger your baby. Here are the things you should observe as you purchase the necklace.
The beads should not have jagged edges on any part as that may hurt the baby
Try to note that every bead is knotted individually
Ensure the beads are threaded with multiple strands as that avoids them from breaking
The necklace should have all the materials natural
You should not purchase a necklace that is too tight, or very lose, but make sure it fits right with enough space
Conclusion
Effective amber should provide your baby with enough succinic acid naturally and overcome any body pain. If you are using it to control other conditions apart from the teething problems, try to test when the right time for it to become effective is.
Amber is said to control the immune system, drooling, reduce inflammation in the ears, throat, respiratory system, and stomach. But still, amber use is a controversial topic over the years as there is no medical evidence that suggests the succinic acid or the oil relieves any pain. You should be careful after buying and watch your baby regularly to observe any changes or prevent small accidents.
Read more: Baltic Proud