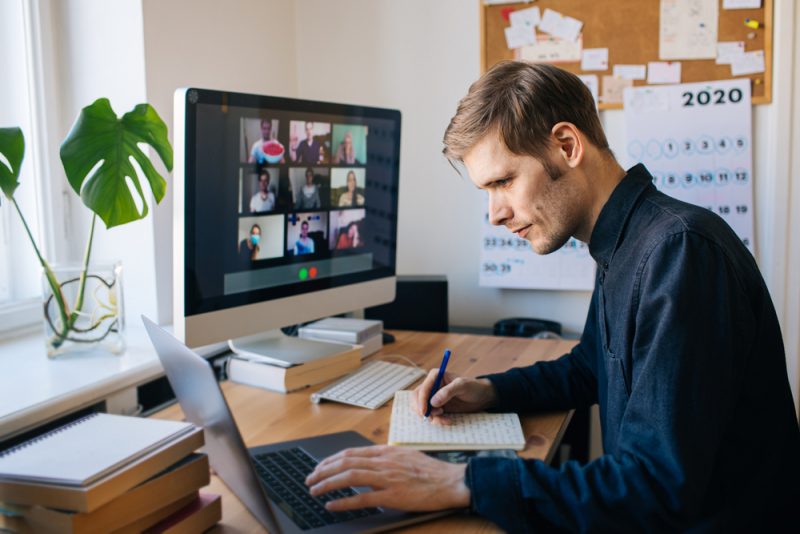 From Zoom meetings to Zoom quizzes, it's fair to say we've all been subjected to a video call of some description during the pandemic. And while Facetime has been gaining popularity over the last few years to connect to loved ones, our sudden reliance on Zoom to communicate on an almost daily basis with our colleagues is having an impact on the way we view ourselves.
Impact Zoom Has Had on Our Self-Perception
Pre-pandemic, when we were speaking to colleagues, acquaintances, and friends, it was doubtful that we would be staring at ourselves every single day. This new element of interacting with others whilst also seeing our own reactions have many of us spending more time looking at ourselves than the people we're talking to.
Unlike our perfectly filtered Instagram images, our Zoom image is our raw and truest self, and most of us are unused to seeing it in such an unposed way. Staring at ourselves on video forces us to reckon with our physical selves in a way we might otherwise avoid. Sonya Renne Taylor, author of The Body Is Not an Apology, notes that "for a lot of us, the way we manage our relationships with our bodies is to not be in a relationship with our bodies….when you get face to face with actually having to be present with your body, to see it, then you're also seeing all of the projections and undealt with shames and discomforts and judgments and comparisons that lie therein."
Most Common Cosmetic Surgery Procedures
Save Face, which represents practitioners, has seen a jump in email and web inquiries for various cosmetic procedures following the lockdown. Unsurprisingly facial procedures such as rhinoplasty, facelifts, and neck lifts have become more popular, but so too have searched for non-invasive and minimally invasive procedures such as Botox, dermal fillers, and CoolSculpting.
Historically women account for a larger proportion of cosmetic procedures than men, but the 'Zoom Boom' has seen a marked increase in men requesting hair transplants and other cosmetic procedures.
Zoom Tips & Tricks to Boost Confidence
Obsessing over our own image can lead to perceptual self-distortion, often known as body dysmorphic disorder. Even if you aren't suffering from your self-image to the degree of BDD, there are a few things you can do that will help boost your Zoom confidence.
Camera angle: Often, the camera is fixed to our device and tends to be unflattering. Instead, invest in a webcam that sits higher than your eye line. If you're conscious of yourself looking at the camera, have it off to one side.
Lighting: Overhead lighting can cause unnatural and unflattering shadows; a ring light around your camera will help give you an even and soft glow.
Limit video calls: If you find video calls are causing you real stress, limit the number of video calls you have, and minimize the screen when you call to reduce the amount of time you spend looking at yourself.