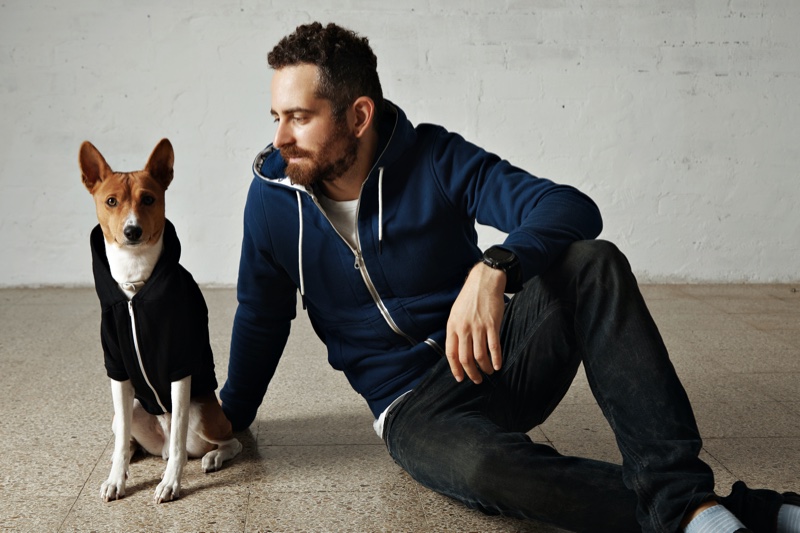 Many people have probably thought about how long the fashion for pet clothes has been in our lives. And we're probably sure that everyone is convinced that this happened very recently, but this is far from the truth.
Clothing for dogs was of great importance in the distant past, namely the 4th-5th century BC, when powerful armor began to be put on fighting dogs. The iron vestment protected the dog and gave it an intimidating appearance.
Early Pet Clothing
St. Bernards was one of the first large breeds for which clothing was invented, as this breed was specially trained and worked as rescuers in the avalanche-prone Swiss Alps for a long time. The dogs looked for people and dug them out when necessary. However, their coat was covered in a thick layer of snow during their work, which made them uncomfortable. Furthermore, snow can cause hypothermia and illness in dogs, so caring owners and trainers sewed special overalls for them.
The fashion for pet clothing as we know it today first appeared in Europe in the 18th century. For example, the British thought it impolite to take their pets "out into the world" naked.
Furthermore, dog clothing became extremely popular in France. Frenchmen created new, comfortable, and beautiful models. The Goyard company started the world's first catalog of clothing for our four-legged friends in 1892.
Nowadays, dog clothing is different. We see the protective equipment required for the work of service dog shepherds. In Europe, they are also taught from a young age to wear shoes so that the animals' paw pads do not burn in the heat. In bad weather, shaggy pets wear raincoats to avoid getting dirty on walks, while Spitz and Yorkie pups only walk in warm jackets or overalls. And what about the sphinx cats? Even on a hot summer day, these guys can get cold without their favorite sweater.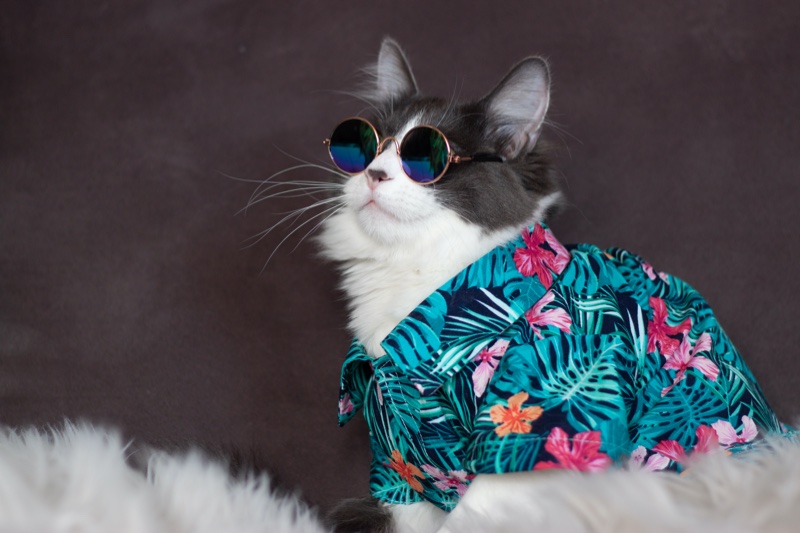 Modern Pet Clothing
Pet fashion has long been similar to human style – there are everyday outfits, outerwear, and even evening looks. Want to dress up your pet for your wedding? No problem! There is a tuxedo and a wedding dress to buy.
Dog fashion is very actively developing in England, America, and Japan. In Europe, they also like to pamper their pets with stylish looks. For example, the Hip Doggie brand is popular in the markets of America and Europe. This brand's clothes are worn by the dogs of Paris Hilton, Britney Spears, Eva Longoria, and Debbie Gibson.
Celebrities, like in "human fashion," set trends in this area. And, of course, their tailed companions do so too. Paris Hilton's Chihuahua wears Chanel, and Blake Lively's dog, Penny, has a more extensive wardrobe than her owner. Not to mention Henry, Phoebe Price's Yorkshire terrier. He has the same appearance as his owner.
Clothing for pets from well-known "human" brands is also being developed. Of course, this isn't their primary activity; it's a great way to expand their offerings. It's also a definite plus for fans of these brands. Diamond Dogs, Roberto Cavalli Pets, Vivienne Westwood, Ben de Lisi, Issa, and Stephen Webster collections – the high fashion clothing for beloved pets is diverse in both design and price. You can always select an option based on your financial needs.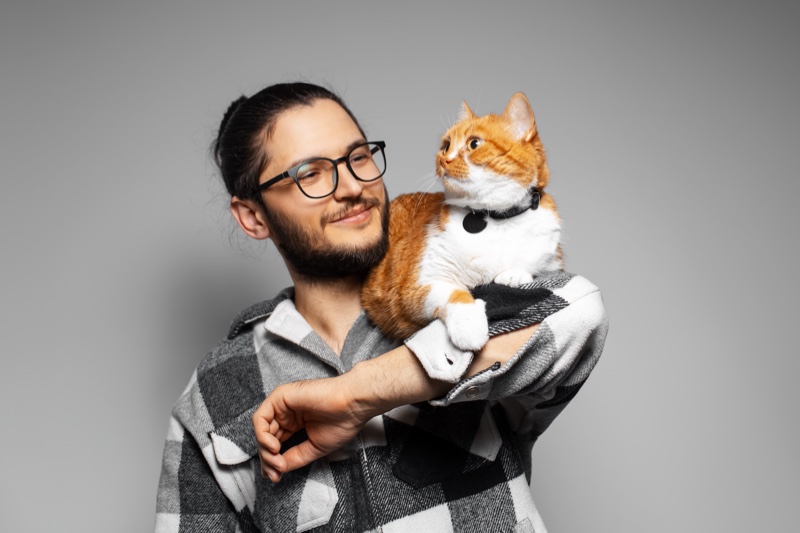 High Fashion Pet Designs
Today clothing for four-legged pets is made by well-known brands such as Gucci, Louis Vuitton, and Burberry.
Burberry, for example, had a Dog Collection line that has been discontinued since 2009. Even today, dog owners all over the world look for the famous trenches from this collection. These items are in high demand on eBay and other resale sites.
They usually create a unified look with the Bottega Veneta checkered dog collar. These collars are made with the brand's traditional and significant intreccio weave.
If resale and vintage productions are not for you, there are other options. Tiffany & Co. and Louis Vuitton create leather collars featuring their famous emblems in wide variations of colors.
Moncler changed its strategy in 2018 and widened its clothing lines from two to eight. This diversification resulted in a separate clothing line for pets, Moncler x Poldo Dog Couture. The brand included collars, leashes, down jackets, vests, and other accessories for a stylish pet.
Another all-time brand that produces clothing for pets is Barbour. Their designs are directed more to the caparisons and collars for the dogs made from classic materials like linen and leather and featuring lining made from tartan. They even have Instagram( @barbourdogs), where four-footed furry friends model in fashionable clothing.
If you're looking for everyday outfits for your pet, consider the line of Ralph Lauren Pet. It displays a wide range of traditional polo shirts that the brand is known for, but this time for dogs. Colorful and recognizable shirts will turn any pet into a fashionable companion.
If Ralph Lauren's classic approach to design does not appeal to you, you can look into Heron Preston's products. His street-style vision extended beyond humans, and he launched a separate brand, Very Important Puppies. Modern hoodies, jackets, shoes, and even bathrobes and pajamas are altered to fit the dog's specifications.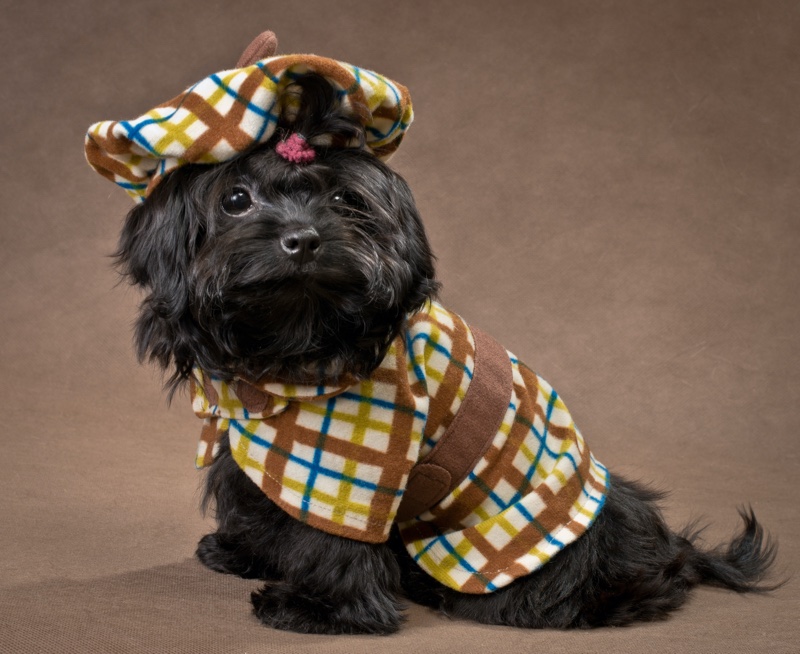 What to consider when you choose dog clothing?
According to Dr. Louise Murray, vice president of the American organization for the prevention of cruelty to animals at ASPCA Animal Hospital, the pet itself will let the owner know that he is cold. He will tremble, raise one or the other paw, stand still, and refuse to walk and move.
How a dog tolerates cold depends on the following factors: breed, coat density, size, and health status.
It is a mistake to think that if the dog is large, he will not care about the cold. There are a lot of large breeds with fine hair – for example, Great Danes and Pit Bulls. Clothes are not only for small decorative dogs. The purpose of clothing for pets is not only to decorate them but to keep body heat at ideal temperatures, to prevent dryness and inflammation of the skin. Experts recommend dressing dogs for long winter walks. Also, they recommend dressing some cat breeds which are more prone to disease. To find out if your cat is one of them, you can search for the best cat DNA test.
Proper clothing for a dog should:
fit in size and tightly fit the body;
doesn't grip ears and paws;
doesn't electricize fur;
doesn't interfere with free movement.
Jackets and sweaters are selected according to the neck's coverage and the widest part of the chest, as well as the length of the torso from the neck to the waist. It is better to purchase models without fasteners – the pet can tear off and swallow their pieces.