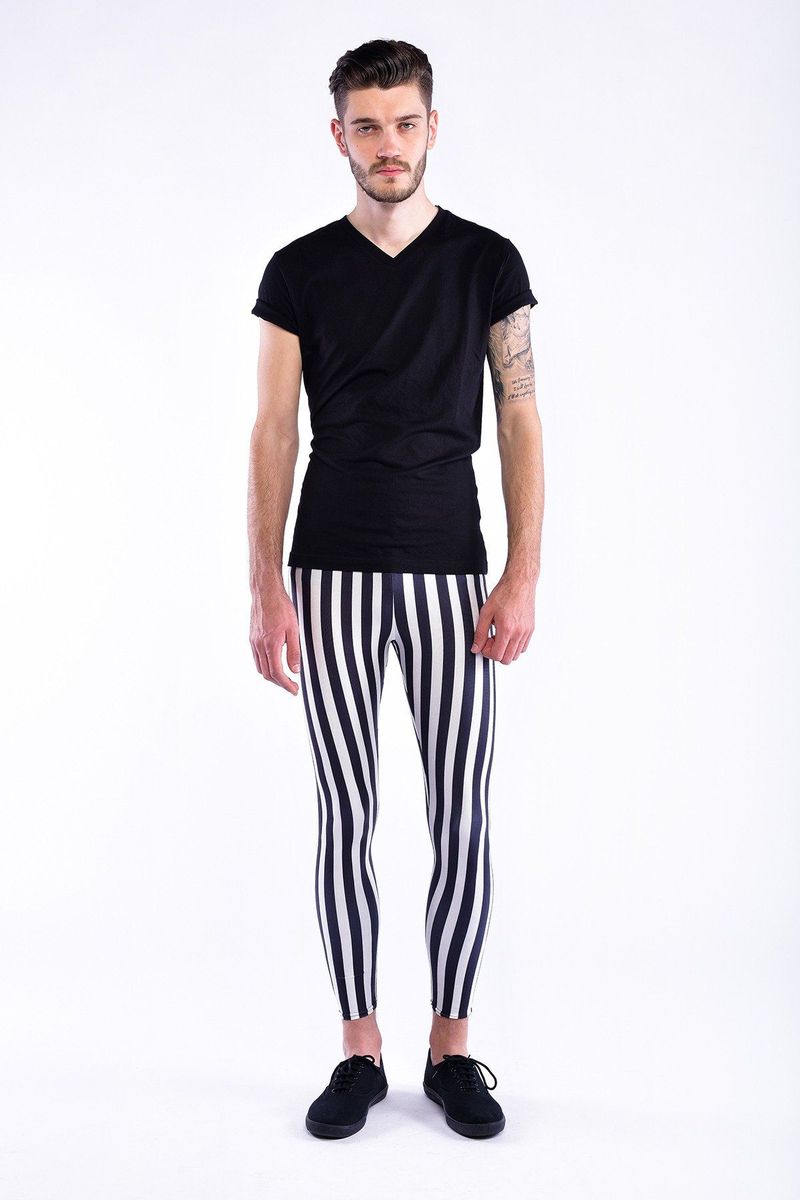 It's officially festival season. After almost two years of virtual events and wearing almost anything to get through the day, we can prepare our bold looks for the much-anticipated festivals we've been waiting for years to attend. But at this point, especially for the male festival-goers, deciding what to wear may pose some difficulty, because again, after all, we've been locked up for almost two years. But don't worry, we got you covered, with the right festival/IG-worthy bottoms, at the least!
The Meggings
Megging for men or men's leggings is a not-so-new trend, as most male gym-goers do opt to wear leggings while working out. Nonetheless, this leggings for men trend is all the rave during festival season as it brings in a different style and uses for wearing leggings.
The trendiest fashion leggings match the festive spirit of the parties. And with crazy designs from metallic leggings, galaxy leggings, and even leopard print leggings, they live up to its hype. Compared to workout leggings designed initially for recovery and support with minimal design, meggings are also intended to cover your private, so don't worry about going out in public while wearing a trendy pair.
Interestingly, there has already been a movement even on TikTok where men were challenged to wear leggings in public, breaking the norm that it's not just for the gym or working out. Meggings can also be worn casually! Whether it is running an errand or, of course, rocking a festival outfit, they are just uniquely fashion-forward and, not to mention, very comfortable not to wear!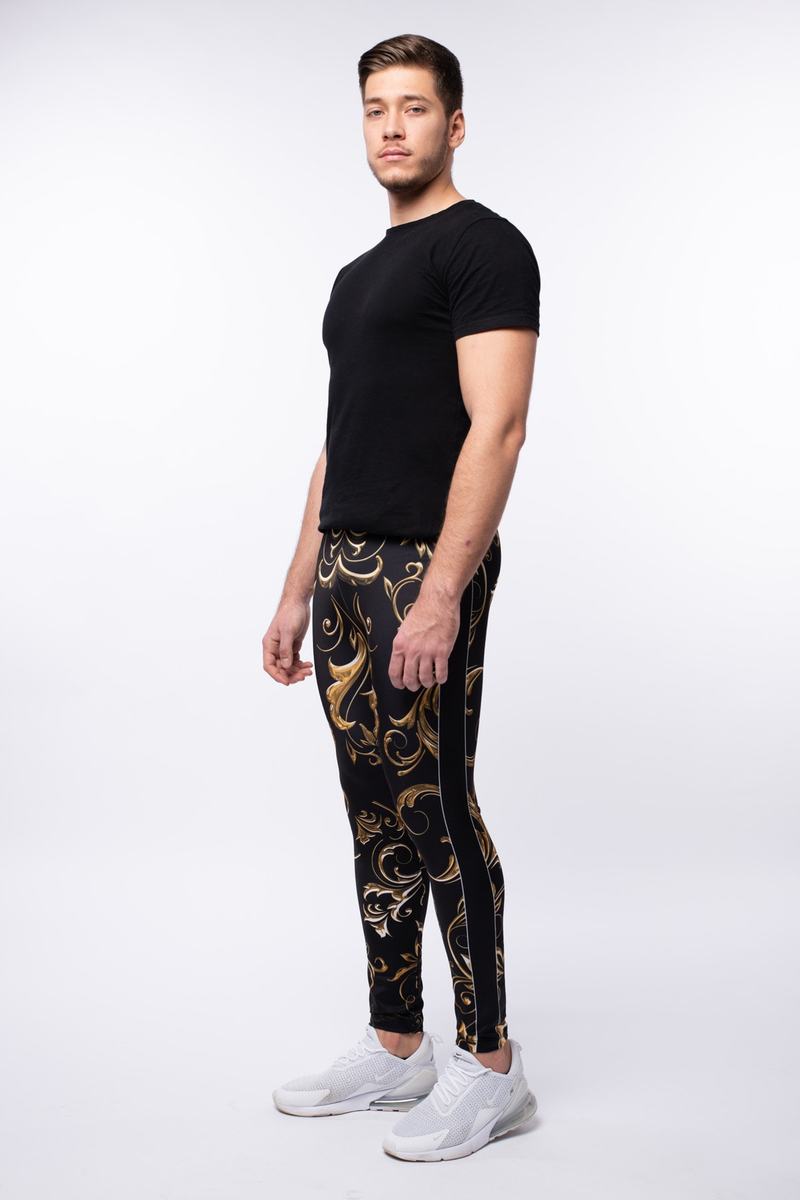 Rocking Festival Outfits with Fashion Leggings
Music festivals are an excellent place for people to express themselves with their clothing. As much as it's an easy way out for guys to opt to put on a pair of shorts and a tank top that will eventually be taken off if you're comfortable with that, you might want to consider meggings for your next rock festival outfit.
Think of it this way, you're in an open field for 6 hours or even more, walking around, going stage to stage under the heat of the sun or a cold breeze, your tank top and shorts are not going to help you that much with comfort.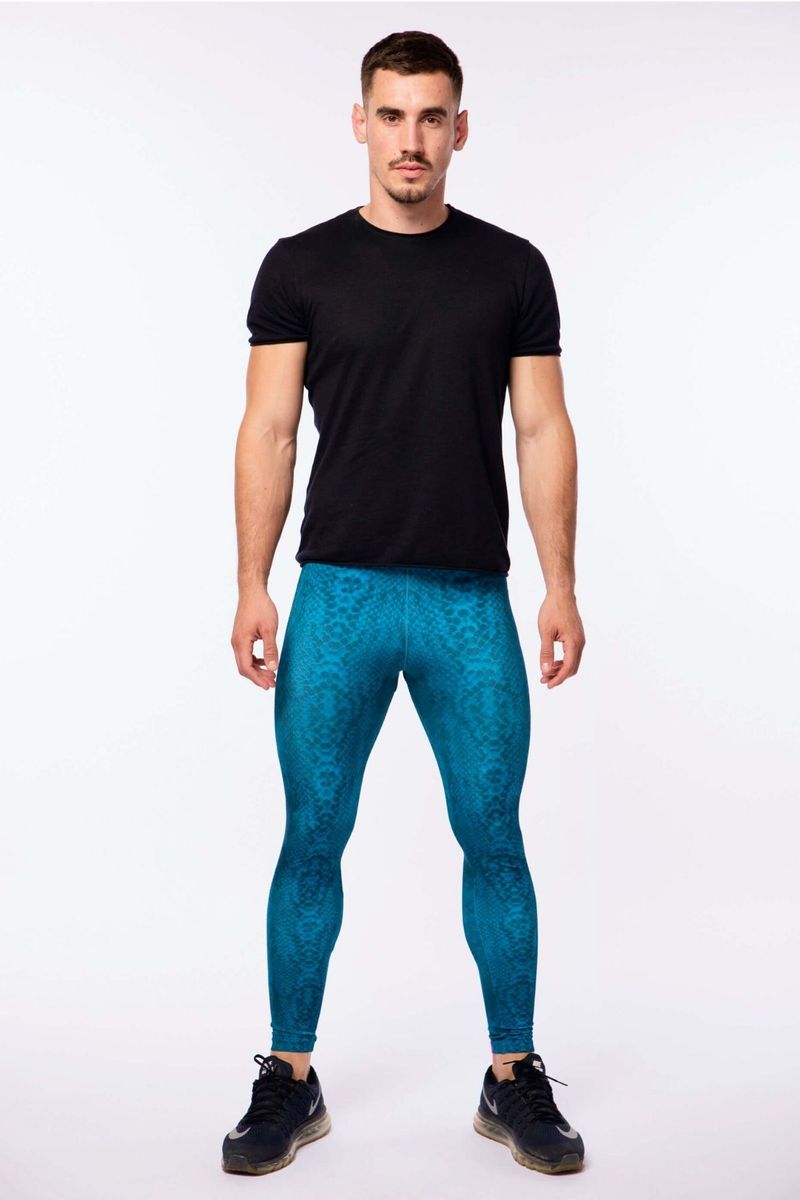 And again, meggings provide the same support as regular gym leggings. You get the compression to help your upper thighs with all the walking and jumping. The added aesthetic is the best bonus you can get with the different designs available to suit your style and personality.
Meggings also come in different forms, like full-on leggings that go down to your ankle and commonly called "biker shorts" that go until above your knees. Whichever style you choose to go with your rock festival outfit, meggings are absolutely a must-wear fashion piece.
What Meggings Should I Wear for the Festival?
Before we go dive into your closet or shop for rock festival outfits, here are the festivals you shouldn't miss:
Outside Lands Music Festival – Golden Gate Park, San Francisco, CA (October 29 – 31)
The Great Jack O'Lantern Blaze – Croton-on-Hudson, New York (September 17 – November 21)
Burning Man – Black Rock City, NV (TBA)
Lollapalooza – Chicago, IL (TBA)
Pitchfork Fest – Chicago, IL (TBA)
Now, as you prepare for your next rock festival outfit, the question is–what type of meggings should you wear? Here are a few relevant suggestions:
Metallic Leggings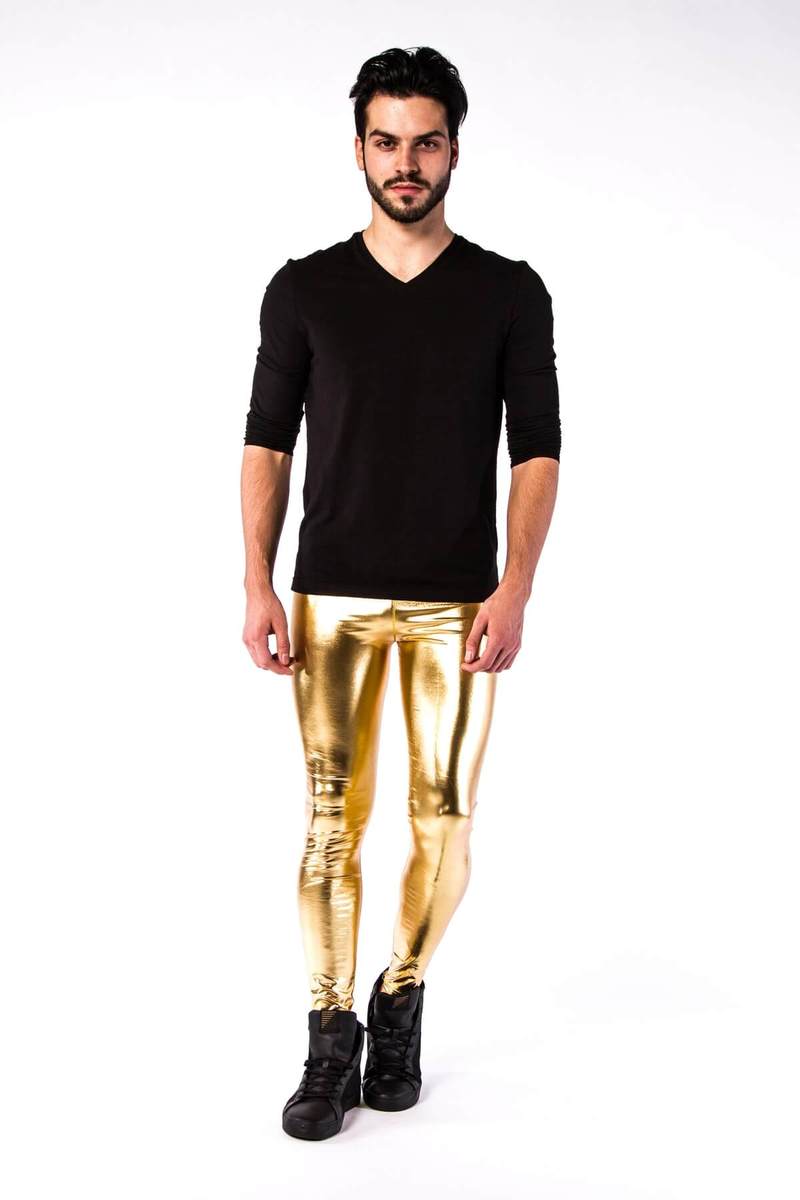 Going for meggings is already a bold move, so why not just go all out and slap on a pair of metallic and flashy leggings? This gold pair of festival meggings will make you stand out from the crowd and easily spot if you get separated from your festival crew. Just throw on a plain shirt on top and some sneakers, and you're all green or gold instead.
Metallic leggings are already quite rare to find, mainly because they're seasonal in local retail stores. So the best place where to find metallic leggings is online. You just got to find a brand specializing in megging for men, so you know that they're made to have adequate support and tailored for male comfort.
Galaxy Leggings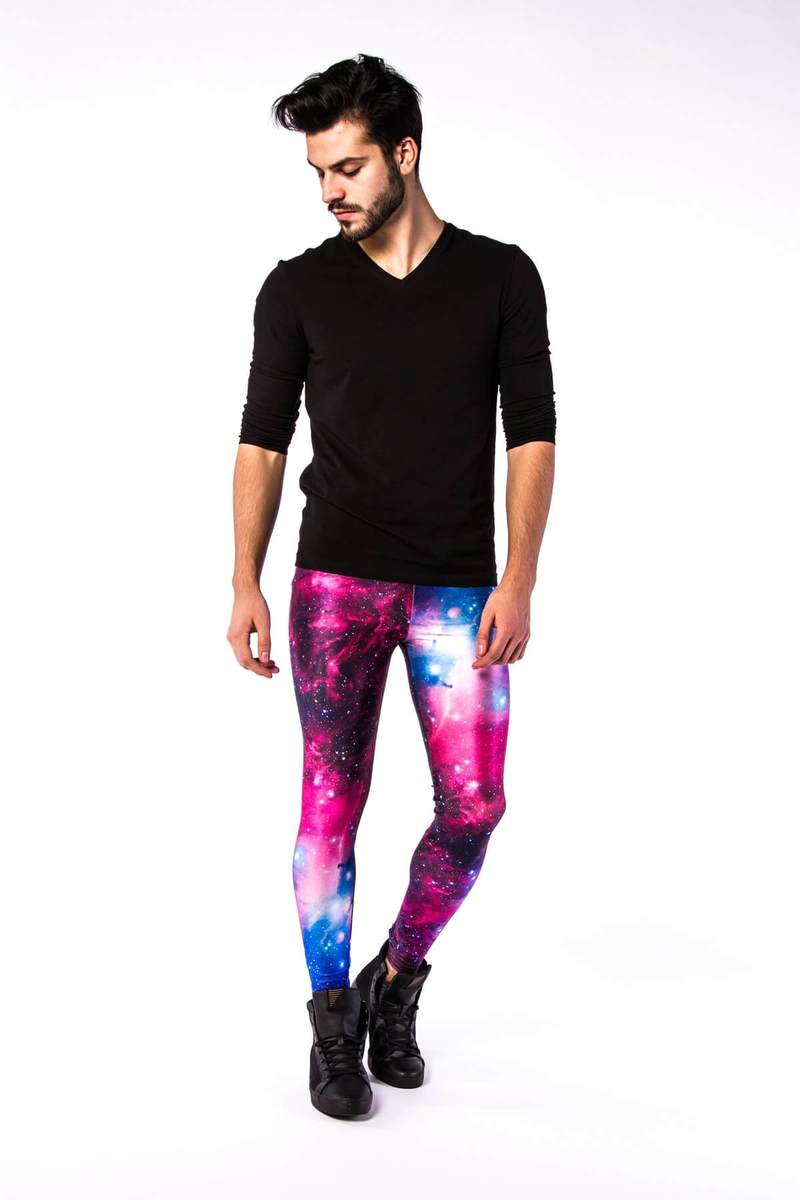 Like it or not, we were all hooked with the galaxy trend back in 2016, and festivals are a great place to show up in whatever style you like or whatever you want to wear. Galaxy meggings are also a statement look as they make your lower half look out of this world. But kidding aside, the galaxy design has been around for a while, and it hasn't died off; they are a great look, especially with the funky and out-of-this-world color combinations that will make you pop out in the crowd.
So, the next question to ask is: Where can you buy galaxy leggings? Check these pairs of galaxy leggings out; they also come in shorts form if you want your shins to breathe in a bit of air or if full-on leggings just don't fit your body type.
Leopard Print Leggings
Now, if you want to go bold, and the gold and galaxy aren't just cutting it for you, animal print meggings, especially these leopard one's might be what you're looking for. Festival-goers will be clearing the way if you're walking around wearing a pair of these hot leopard leggings that will make you go "rawr."
Slap on these leggings with a tank top and maybe a gold chain or two, and you'll indeed look like a king roaming around the plains of the rock festival. And just like the galaxy leggings, they do come in a shorter form as well.
Colorful Leggings
Now, if you can't just decide on a print or color, why not just wear them all? As mentioned, meggings are already a bold move for your next rock festival outfit, and if you can't pick one print or color, there are a lot of different legging designs that have almost every color of the rainbow! Check out these paint splatter leggings below.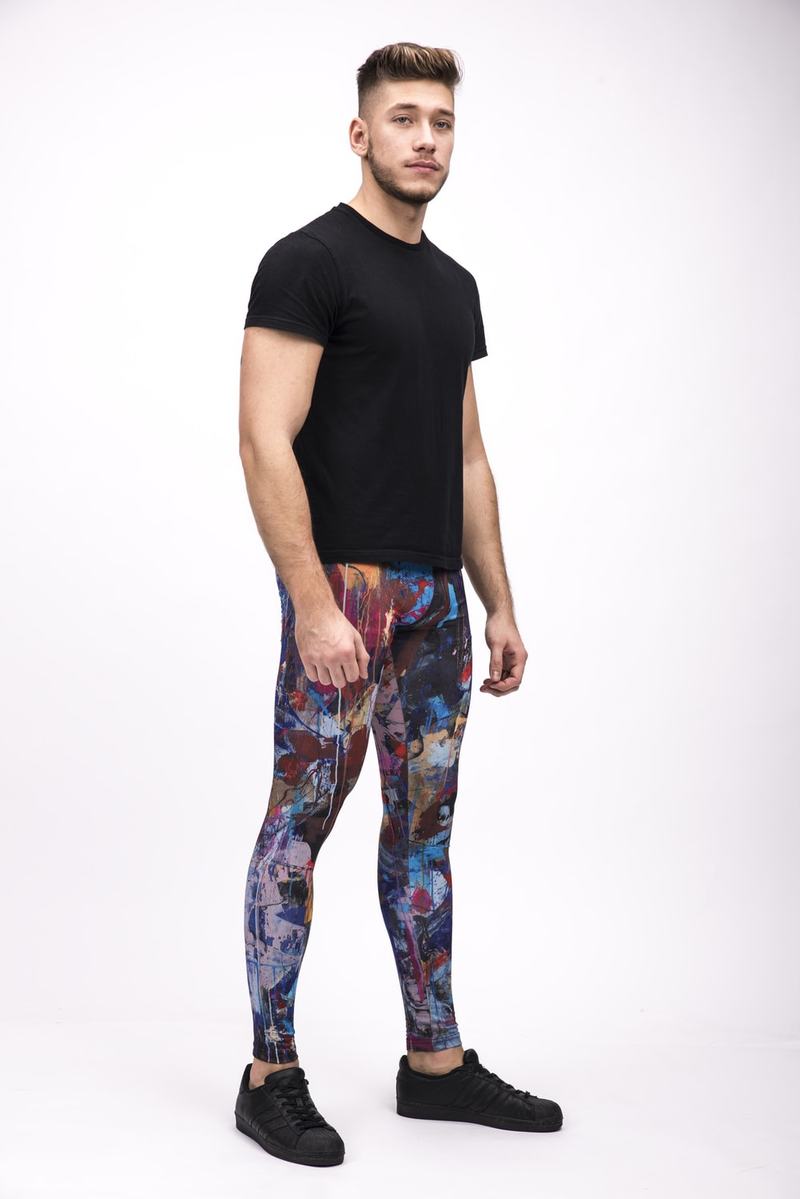 Where to Buy Leggings with Designs?
By now, you might be frantically searching for where to get a hold of unique pairs of meggings for your next festival. Good thing we've got you covered! For one, you can hit up your local mall or check out a variety of brands online that house men's fashion leggings, such as Kapow Meggings.
Either way, if you want festival leggings that give you all of that support, comfort, aesthetic, make sure to check out your options, plan your outfit, order it in advance, so you're sure to get it right before your scheduled trip.