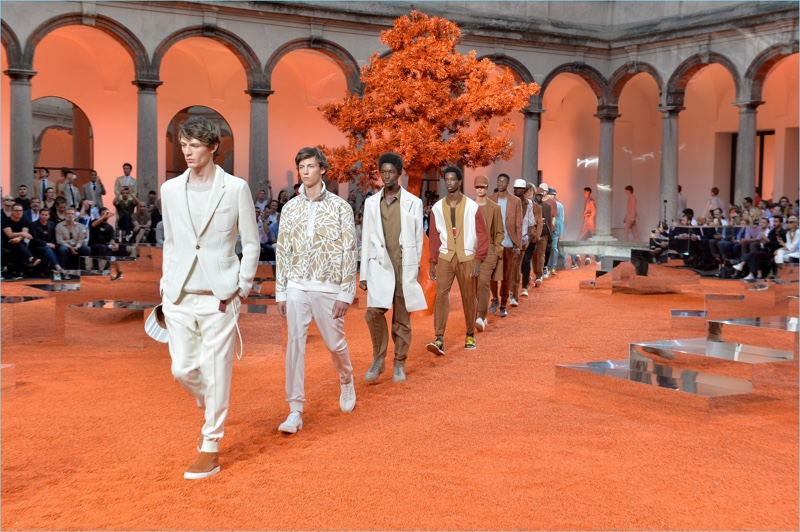 Returning to the Italian fashion house, Alessandro Sartori makes his debut as artistic director for Ermenegildo Zegna Couture. Fantasy meets practicality as Sartori imagines a relaxed season for the Zegna man. A rich tapestry of red and brown color a lineup of interchangeable wardrobe pieces. Meanwhile, washed silks, cashmere, mohair, and jacquard contribute to the collection's luxe factor. It's here that draped popover tops, color blocked jackets, printed blazers, and billowing trousers come together.
Related: Tailor-Made for the Future | Victor Oliveira Dons Ermenegildo Zegna Couture for British GQ
Discussing the collection, Sartori shares, "To design a forward-looking men's fashion wardrobe built around fluidity, freshness and color but enriched by the possibility of adding your own hint of personality and style, I couldn't imagine a better place than this courtyard, where I often spent time in my youth reading, writing and sketching."
Ermenegildo Zegna Couture Spring/Summer 2018 Collection
For his debut Summer collection, Artistic Director Alessandro Sartori is clashing innocence and sensual masculinity in an exploration of conscious and sub-conscious fantasies. The linear backdrop of one of the historic courtyards of Milan's Università Statale is the framework for a futuristic garden with tangerine lawns in a labyrinth of aesthetic compositions. Outdoor life unexpectedly meets the indoor throughout a fresh summery breeze which pervades the fluidity of fabrics and delicate silhouettes enlightened by a blaze of colors.

Couture constructions fly and inflate, moving with a carefree attitude. The interplay of proportions privileges uncommon freedom and ease replacing classic shirts with deconstructed tops in various volumes, doubled tank tops and scoop neck sweaters play with active yet tailored trousers and joggers. The studied assembly of sport-inspired clothing is enriched by oversized handmade pockets, hoods and iconic Triple Stitch logos, synonymous with Couture.

Fluid washed silks, Century Cashmere and pure mohair confer concrete weightlessness to the collection, while giro inglese and mesh jacquards, together with perforated and intarsia leather give hints of ethereal substance. The delicate color palette favors natural shades of walnut, signature Vicuna, geranium, freesia, lotus, cypress and bleached aqua, while optical whites meet unexpected color flashes. Even the accessories indulge in the laid-back pace of the season: technical Triple Stitch sandals, elasticated leather boots and iconic maxi-logo TIZIANO sneakers for footwear immediately available for purchase; and the super-soft evolution of PELLE TESSUTATM in new, colorful knitted effects for bags, baseball hats and visors.