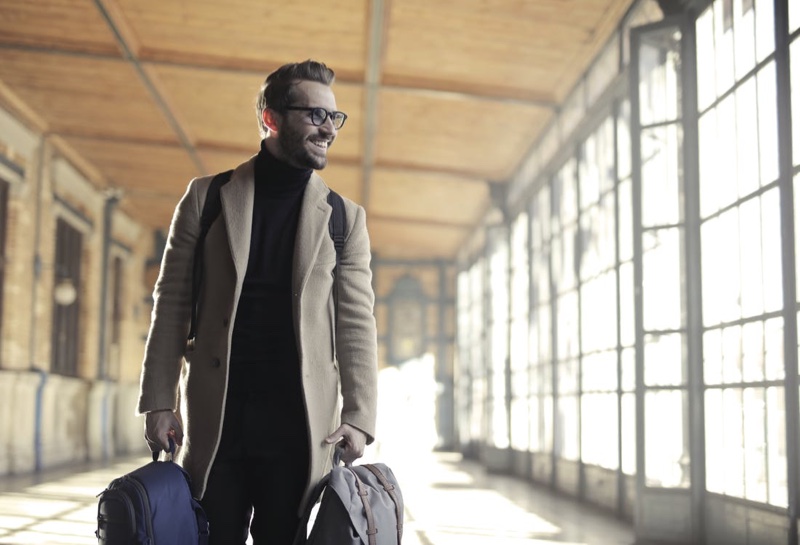 It's true that the airport is by no means a catwalk, but we can still appreciate you wanting to look good when boarding your flight. That said, no one wants to experience the woes of airport delays. So we've got the best tips and tricks on how to fly through comfortably whilst still looking like you're about to step on a private jet heading to Milan Fashion Week.

What Men Should Be Wearing to Catch a Flight
Tops: When it comes to airport clothing, you want to be as comfortable as possible. Especially if you're boarding a long-haul flight, you want to avoid any restrictive materials and cuts. You can't go wrong with a plain white tee with a crew neckline. Add a bit more flavour with a slogan T-shirt. Gucci is all about showing of its labels and many high street stores are replicating with Milan, New York and other fashion capitals featuring in designs across T-shirts.
Trousers: Save yourself the discomfort and ensure your bottoms are stretchy and breathable. Jeans and proper trousers aren't an outright no if they offer some flexibility and you can see yourself easily sprawling at the departure gate without much trouble. Otherwise we would recommend tracksuit bottoms. Becoming very much a staple, there are many stylish options available at designer labels like Polo Ralph Lauren, Hugo Boss and Armani and buy tracksuit bottoms with a bit more flare. You can rest assured these definitely don't count as your everyday loungewear.
Layers: Regardless of where you're heading, you should always have the option of layers. Even if you're travelling when there is a heatwave, airports and planes can still end up being a bit chilly. On the flipside, you don't want to wear a woolly jumper with no layers underneath and overheat. Take a hoodie along with you and it'll be perfect if you want to catch a bit of shuteye, too. If you'd prefer, especially if travelling to a cooler climate, taking a coat or jacket could also be a potential layer option. Or, for warmer climates, layering a shirt over your T-shirt is a combination you can never go wrong with.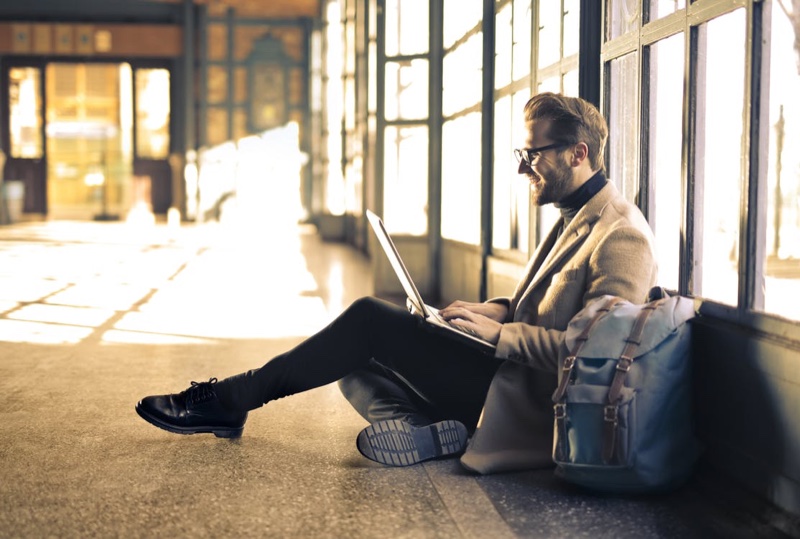 Shoes & Accessories: Socks and sandals might have been an absolute fashion no no a few years ago, but with the immergence of sliders as the essential summer footwear for men and women, socks are experiencing their renaissance. Which is great, because not only do you want shoes easy to take off and put back on again during security checks, but you'll also want to be sporting a pair of socks. With hundreds of thousands of people stepping through airports every day, create a barrier between your feet and potential bacteria and take our word for it: wear socks.
Avoid Wearing these Items to the Airport
Accessories: When it comes to jewellery and watches, we'd advise safely packing it away into your suitcase. It doesn't always happen, but jewellery can set off the metal detectors and no one really enjoys being patted down in the airport, do they? Although your watch will be of great use to ensure you're at the airport in time, swap out your suave watch for your phone just this once and also ensure the safety of your most precious items. This also means you'll waste less time removing and putting back on through the security line.
Shoes: We've already advocated for the slider, so really anything more than slipping your feet in should be an indication not to wear those shoes. Avoid anything with laces or buckles. Not only does this slow down the security check process, but any bulky footwear may also prove uncomfortable. You want breathable footwear that regulate temperatures. Ask yourself this? Is it worth how good they look if you're itching to take them off. Let's get one thing straight: no one wants you removing your shoes halfway through a long-haul flight.
Inappropriate Clothing: You might find yourself in the heart of your very own romcom in the middle of the airport, but we've already told you you can still look stylish whilst being comfortable for your flight. When it comes to clothing, avoid restrictive items at all costs and do not, under any circumstances, dress for your destination. You may think you look impressive showing off all that hard work on leg day at the gym in your cut offs, or like a winter athlete in head to toe ski gear. But we're going to let you down gently and tell you you sort of look ridiculous. Layer appropriately and aim for that relaxed vibe and any prospective love interests will be ready to board your flight.
There never was a more attractive individual than one who is confident in themselves. When it comes to clothing, you don't want to be fidgety and uncomfortable. With these airport do's and don't's, you can achieve a look that is still every bit as classic and sharp as the man you are, but without all the digging-in, sweaty material.
Alice is a blogger for Parking at Airports, your one stop shop for securing cheap airport parking across the globe with discounts of as much as 72%. As well as writing, Alice enjoys travelling and reading up about the latest fashion trends.