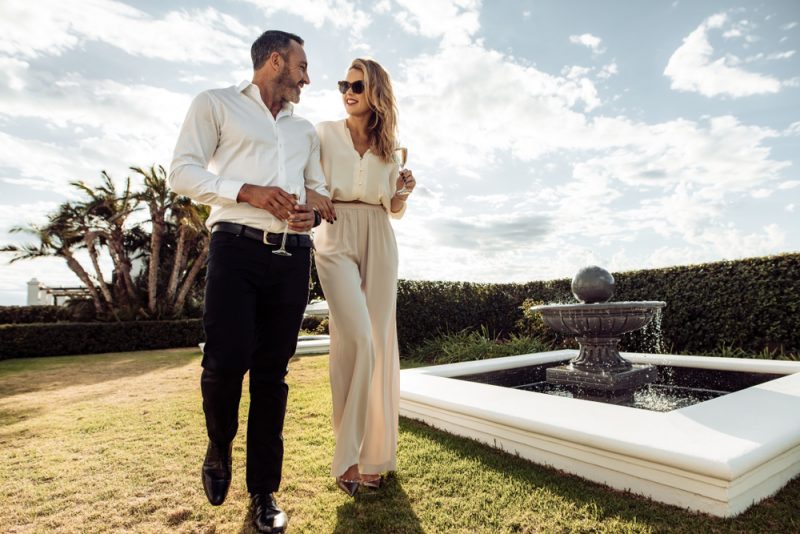 Matching outfits for couples is a bit much. With that said, fashionistos shouldn't completely disregard the concept of syncing their style with that of their partner. Instead of thinking in terms of looking like a pair of twins, consider the possibility of dressing in tandem; you wear something that works well with what she's wearing. What's more, such a style can be reserved for special occasions rather than become a day-to-day dress code.
Here are some fashion-forward ideas to inspire you:
1. Coordinating Beach Buddies
Go for yin-and-yang swimwear with black swim trunks for him and a white bikini for her. While the swim separates are not an exact match, they certainly playfully bounce off each other. Plus, the fundamental tones and simplistic lines are clean and timeless.
2. Coordinating Christmas
How sweet and romantic will it look if you and your sweetheart are wearing the same style of holiday sweater or pajama pattern? If you have children, your entire family can coordinate for some real wholesale goodness. You can even plan by making the aesthetic part of your annual holiday card! Another endearing take on the theme can be you and your partner in red and green variations of the same pattern of PJs.
3. Being Crisp and Fresh for Spring
Start with matching white bottoms, in linen, if possible. For women, a pencil skirt is ideal, while for men, trousers or even knee-length shorts will work well. Then, finish off the look with a bold-hued shirt on top. Nothing with a pattern will work. You want to be sure it is a solid color. Polish off the look with white strappy sandals or heels. For him, add either a similar-colored button-down or polo shirt on top. Top it off with a trendy jacket for him and an oversized sweater for her.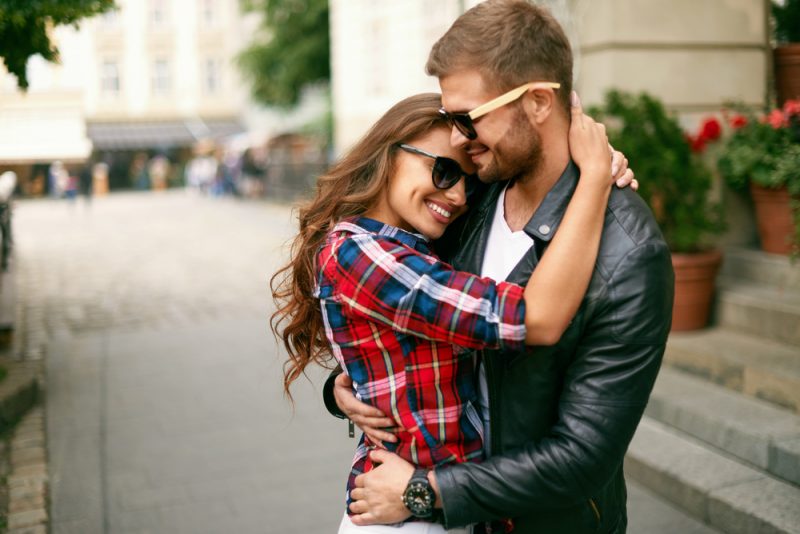 4. Getting Retro Fitted
Get your "Grease" on with matching skinny jeans. Or, if the lady prefers, a pair of patterned leggings will do. Then, both of you should opt for fitted, white tees, and you can even tie it up to reveal your midriff. However, the showpieces, of course, are matching, sexy, leather jackets straight out of the greaser era.
5. Matching your Valentine
For a formal Valentine's Day date out on the town, how about coordinating his tie or bowtie to your dress? If he is wearing a jacket, throw in a matching handkerchief for extra class! The best colors for the occasion are, of course, white and red, but real men wear pink, too. Try coordinating in wine, rose, and maroon shades.
6. Synchronized Custom Tees
You can find several online novelty stores that print cute coordinating t-shirts on-demand. Many are very "couply" and complementary, such as when the first shirt posits a question, and the second shirt answers it. Others are simply visual puns like the set with each half of an avocado on each tee. The man's side contains the seed, and the woman's half has a hollowed-out hole.
In conclusion, these adorable outfits show the world how much you genuinely care about each other, and just how well you fit together as a couple. Dressing alike also allows you to take plenty of selfies and post them on your social media accounts, so don't be shy! Show the world that you care and that you found the one that makes you happy.