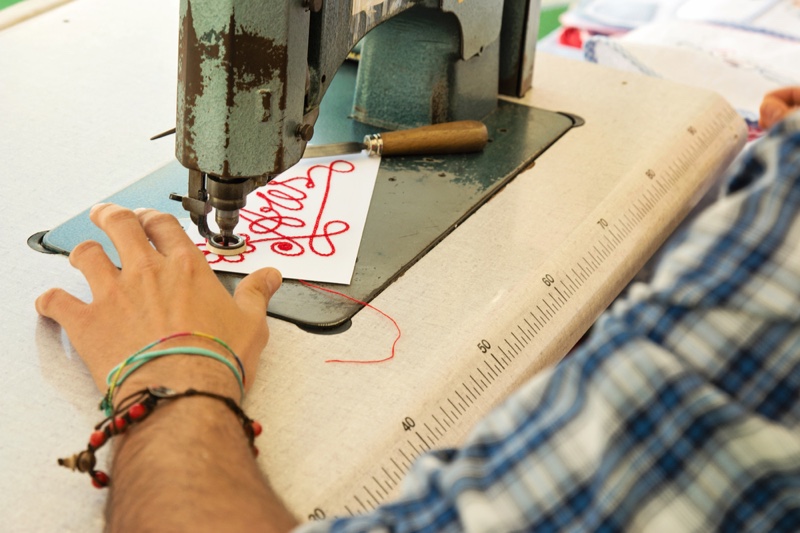 Selecting an embroidery machine is an exceedingly perplexing and puzzling task taking into account the plenitude of models and associated features available in the relative market.
Moreover, the task can become even scarier if you are out to pick an embroidery machine for the first time as you really don't know which questions to ask and how to select the best embroidery machine for beginners.
However, you really don't need to worry now as in this post, we are going to tell you how to pick an embroidery machine in accordance with your requirements. Before we proceed, you need to clear some basics though.

What are the various types of Embroidery Machines available in the market?
• Single Needle Embroidery Machines
These are the fundamental embroidery machines. As clear from the name, these machines have only one head comprising of the embroidery needle, thread, bobbin, and other essential elements associated with the machine.
You can expect a speed of 300-1000 stitches per minute from a single needle embroidery machine.
• Multi-Needle Embroidery Machines
If you have different color options in your embroidery design then a multi-needle embroidery machine is ideal for you. In a multi-needle embroidery machine, unlike a single needle embroidery machine, you don't require taking out and replacing the color thread to switch to a different color choice. This saves a lot of time.
While a single needle embroidery machine has a single point for attaching the hoop, a multi-needle embroidery machine as two.
• Combined Sewing/Embroidery Machines
As clear from the name these embroidery machines are a hybrid between single-needle and multi-needle embroidery machines. Therefore, with combined sewing/embroidery machines you have the advantage of switching between single and multi-needle in accordance with the requirements.
What are the various types of Machine Embroidery?
• Free-Motion Machine Embroidery
If you have a perfect set of sewing skills then free-motion machine embroidery is ideal for you. With free-motion machine embroidery, you control the embroidery needles and the entire embroidery process. Usually, free-motion machine embroidery is ideal for beginners who are looking to enhance and improve their sewing skills.
• Computerized Machine Embroidery
In case of a computerized machine embroidery you don't control the embroidery process. All you require doing is to load a design and turn on the machine. These machines are expensive, however, they allow you to explore a lot in and give plenty of leverage in creating fantastic embroidery designs.
Now, that you know the basics, you are in a much better position to pick an embroidery machine in accordance with your requirements. Following sections provides some essential tips that will, certainly, help you to pick an embroidery machine which is best-suited for you.
Points to factor in when buying your first embroidery machine
• The machine must match your skill level
If you don't understand the basic principles of sewing and embroidered designs, it is a futile exercise to go for advanced embroidery machines. Instead of hopping onto the advanced level, in the beginning you must settle with single-needle embroidery machine which, though are limited in features, are a great way to understand the very basics of pattern creation.
• Do you need a combination embroidery machine?
If you are an advanced user then going for a combination embroidery machine is ideal for you. These combination machines can embroider as well as sew. Even though you might have a sewing machine already, combination machines provide a lot of features as compared to the machines that are embroidery only.
Moreover, consider the scenario when your sewing machine is under maintenance. If you have a combination machine, you can easily shift your sewing tasks to the same instead of temporarily shutting them down.
• Choose a machine that provides multiple hooping options
Before you go ahead with your decision of buying a particular embroidery machine, please do check whether the machine provides multiple options for hooping for not. Most of the machines out there are extremely limited in terms of their embroidery field restricting your creative freedom.
Ideally, a good embroidery machine comes packed with multiple hoops in varying sizes. Also, it must have the provision of utilizing other hoop sizes and shapes which you can buy separately.
• Connectivity
Most of the machines have their own design library featuring an array of embroidery designs. However, you should not limit yourself with the default design library that comes with the machine. An ideal embroidery machine allows you to download additional designs either from the internet or load them from a disk.
A USB Port is a must so that you can load designs directly from a flash drive. However, please note that some embroidery machines actually require a connection with the computer for the design transfer process. Therefore, if your computer is at a far distance from the place designate for the embroidery machine, it is an ideal choice to go with the embroidery machine that provides a USB Port.
• Take throat width into account
Throat width is the distance between the needle and the body of the machine. More is the throat width; easier it is for the machine to embroider the cloth. If the throat width on your preferred embroidery machine is small it can turn out to be extremely frustrating on multiple occasions as you require adjusting the cloth consistently to make sure it fits the machine.
Therefore, before going for an embroidery machine make sure you choose the one that provides sufficient throat width in accordance with your embroidery requirements.
• Availability of accessories
A good embroidery machine provides the option of adding attachments and accessories to it. These additional attachments and accessories can help you to enhance the functionality of the embroidery machine.
• Does your machine come with specialized design software?
In most of the cases, you might require to manipulate the existing design to match it with your requirements. Therefore, make sure that your preferred embroidery machine allows you to edit, create, and customize designs. You might have to purchase additional embroidery software for your Windows or MAC Computer to do this.
Final Words
Finally, when you are ready to buy a particular embroidery machine, make sure that the store from where you are buying the machine provides embroidery classes. Also, it will be ideal if the store hosts embroidery events as they are extremely entertaining and educational.
These tips will, indeed, help you in selecting the embroidery machine that fits with your requirements perfectly.