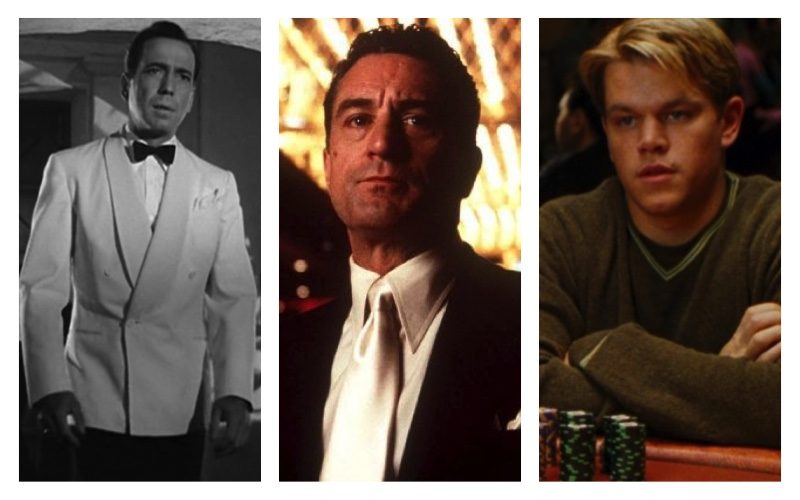 Casinos have formed the setting for many of the most exciting scenes in Hollywood movies over the years. Of course, it is tempting to think of James Bond as the ultimate casino icon, but there have been plenty of other famous faces who have appeared on-screen in casinos. The ambiance of a classy casino makes for the perfect backdrop to allow movie stars to show off their sophisticated side. That has meant we have seen some classic looks on display through the years, from Humphrey Bogart to George Clooney, and much more besides. Let's take a look back at some of the most iconic outfits sported by casino-playing screen idols over the years.
Okay, we're not going to ignore everybody's favorite secret service agent here. Bond has had many incarnations over the years, but most of them have dropped in on a high-class casino at some stage or other. The Bond look has changed considerably less than the faces of the actors to have played him. From Connery to Craig, the classic black tuxedo and white shirt have been the go-to outfit for those evenings in Monte Carlo. One exception was Roger Moore, who went for an 'Inverted' look with a white tuxedo for 1983's 'Octopussy.' Probably for the best that Bond quickly went back to black and had stayed that way ever since.
Although it's a nineties movie, 'Casino' was set in the 1970s. That means you get to see Robert De Niro rocking some high-class vintage looks in this picture. De Niro's character Sam 'Ace' Rothstein is not the shy and retiring type, which is why he favors classy suit jackets off-set by some pretty garish shirt and tie combos. Joe Pesci as Nicky Santoro tends to go for more muted tones, but his colorful vocabulary is more than enough to compensate.
Humphrey Bogart is the epitome of sophisticated cool, and even 60 years on from his silver-screen heyday he remains a style icon. At the roulette table in 'Casablanca', he effortlessly pulls off a double-breasted white tux that would make most people look ridiculous at best. Cary Grant is another star from a by-gone age who lives in the memory as a byword for suave sophistication. When he turns up at a roulette table in 'To Catch a Thief' he is immaculately presented in a traditional tuxedo.
Matt Damon is well-known for his fondness for a casino trip in real life. In the poker movie 'Rounders' he opts for a schlubby 'every-man' get up to show that he's just a regular life. Check out photos of him at poker rooms in real life, and the image is more or less the same! George Clooney and Brad Pitt are two of Damon's good buddies, but when they showed up to the casino in Ocean's 11 it was to rob it, so not exactly what we are looking for here!
Of course, not all casinos these days require the type of dress-code favored by George Clooney or Humphrey Bogart. And if you are playing at an online casino you can do it in your pajamas if you want! However, if you do decide you want to roll like a movie star on your next trip to Vegas, at least we have given you a few ideas.