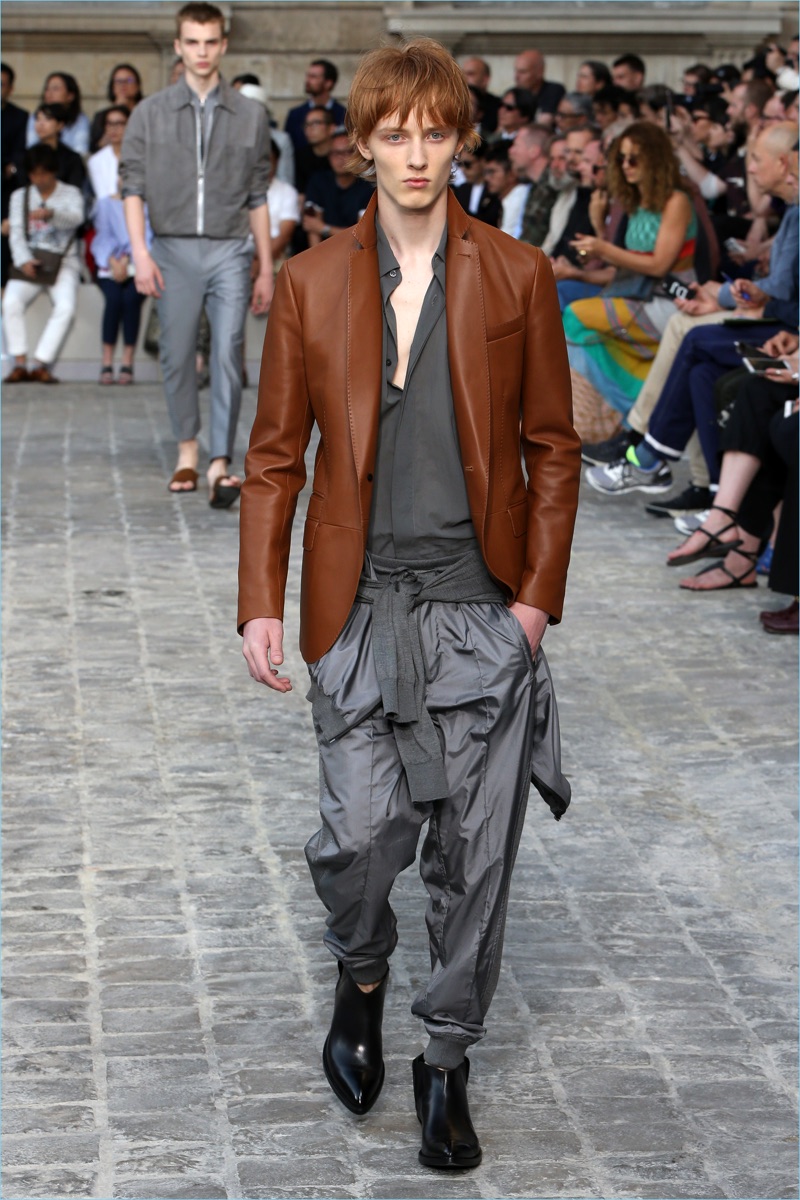 Haider Ackermann introduces an element of imperfection to the Berluti man. The Colombian designer brings a hint of a rebellious attitude to the label with his spring-summer 2018 collection. Disrupting the expected sequence of sharp suits, Ackermann embraces a uniform of silk trousers, slouchy tanks, leather jackets, oversize shirts, and track pants. For color, the Berluti man looks to the keen eye of Erwin Blumenfeld. Ackermann was particularly drawn to a single image of the American-German photographer, who is known for his abstract-like use of color.
Related: Haider Ackermann Revisits Essentials for Berluti Debut Collection
Berluti Spring/Summer 2018 Collection
The Spring-Summer 2018 collection was inspired by a photo by Erwin Blumenfeld. The acclaimed American-German photographer was famous for his experimental double-exposures and reworking of colors until they morphed into abstract delights. He was unique in his ability to nuance colors, creating subtle new hues of "gorge de pigeon", "rose grisé" and "ambre acides" combining them with a delicate artistry that Cecil Beaton described as "infinitely touching."

This Berluti collection then, is the story of a reinvented palette where traditional summer hues are seen through a modern and dynamic lens.

The perfecto has been refined thanks to an icy blue or milky white bonded leather lining. The raw seam finishes are softened by coloring the hems, a technique that brings to mind the leather savoir-faire of the Maison. For the Spring-Summer 2018 collection, the bomber jacket is made of Ottoman leather.

The light cashmere coats are seen in a variety of cool colors to wear for summer.

Silk punctuates all the silhouettes: a jersey silk tank top, the lining of a jogging pant or a silky band on a trouser. Haider Ackermann plays with the codes of the materials and twists these inspired casual pieces.

Bags take their inspiration from a sensual desire for tactility. A tote bag in double-faced leather is black on the outside and dove-grey on the inside, while a day bag becomes a weekend bag thanks to its adaptable volume. Its strap looks like an alligator belt with a soft nubuck touch.

In reference to the emblematic Alessandro Oxford shoe, we find a soft nubuck flat slipper made of one single piece of leather, while boots feature a lower cut than previous seasons. The patination of the footwear palette – which colours of the collection – is both a continuation of the Maison's heritage and an ode to Blumenfeld's experimental techniques.