Who says that a swimsuit can only be worn during the summer months? Across the Atlantic, festive swims are an exceptionally thrilling experience. It may be difficult to imagine a cold, icy plunge at this time of year, but it would undoubtedly be a fascinating introduction to the festivities. If the season calls for you to make a big splash across your pool, a stylish swimsuit will help you loosen up.
Alternatively, while many hunker down for the winter, some travel to warmer destinations for luxury and relaxation. Whether planning a tropical getaway or just thinking about it, a new pair of swim shorts is essential. Fortunately for us, there's no shortage of men's swimwear brands, and today, we're looking at the swimsuit website Bananamoon.com.
Banana Moon Swim Shorts for Men
Dress to impress with Banana Moon's extensive clothing, accessories, and beachwear, designed to fit all body types. Banana Moon's team combines the newest fashion trends with fantastic pieces with great care for your comfort and convenience.
Banana Moon's swimwear for men includes durable and comfortable styles, so they'll last through many poolside lounging sessions—and they come in fun colors and patterns that are sure to turn heads!
Style & Comfort
The stunning swim shorts by Banana Moon are ideal for the active surfer lifestyle. In addition to being fashionable and colorful, they are also quite soft and comfortable. You'd be brimming with vitality running along sandy beaches and diving into the water in these.
Several of Banana Moon's swim shorts have a drawstring elastic waist, so you can adjust these shorts to fit just right. These swim shorts come in various colors and prints that perfectly complement your tropical getaway wardrobe!
Quick Dry
Try getting Banana Moon's swimwear wet if you're feeling extra adventurous! The fabric dries quickly and won't lose its shape over time (so don't worry about being out at sea with these beauties). And since they come in so many colors and sizes, there's something for everyone: whether you're looking for something relaxed and long or slim-fitting and snug.
Styles for Everybody
Let's face it. Nobody likes a tan line. You would stand out like a sore thumb during this season. Choose swim briefs, boxers, or the shorty if you feel comfortable in one for a daring look and a flawless, more even tan.
Make a splash with swimwear from Banana Moon. Choose the length, color, and pattern best for you. Banana Moon guarantees the perfect custom outfit, regardless of whether you favor Hawaiian floral prints or bright colors.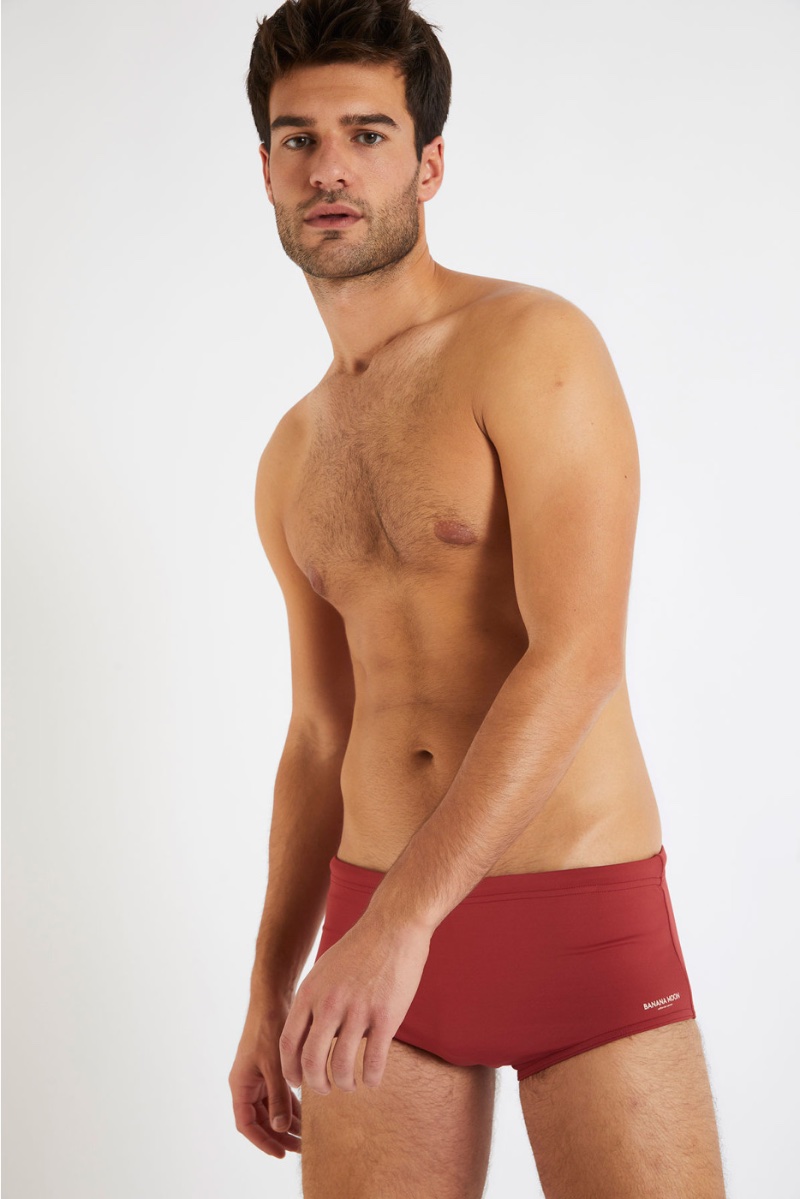 A Moment in the Sun
Banana Moon men's swim shorts are the perfect choice for guys who want to look stylish and comfortable while enjoying a moment in the sun. These lightweight, quick-dry shorts are of a soft spandex/polyester blend that helps them dry faster than other swimwear options. They're also more likely to stay in place as you move around in them, whether you're swimming or walking along the beach.
Because they're comfy and flattering, Banana Moon shorts make a great addition to any guy's wardrobe—they'll pair well with any other items you may already have in your closet! The best part? They don't break the bank; they're available at affordable prices so everyone can enjoy their full range of colors and styles!
Banana Moon x Lexon Speaker Collaboration
Finally, Banana Moon brings the soundtrack to your downtime fun with its Lexon speaker collaboration. A poolside party screams amusement, pleasure, and extreme happiness. With the ideal personalized Bluetooth speaker, nothing could be better.
It is a wonderful technology with vibrant colors and cutting-edge sound quality that can be taken almost anywhere. Take a dip in one of Banana Moon's fashionable swimsuits while listening to your favorite music.
Final Words
We hope we've inspired you to go on a unique winter excursion or tropical getaway with these Banana Moon swim shorts. They're so comfortable you might even forget that you have them on!