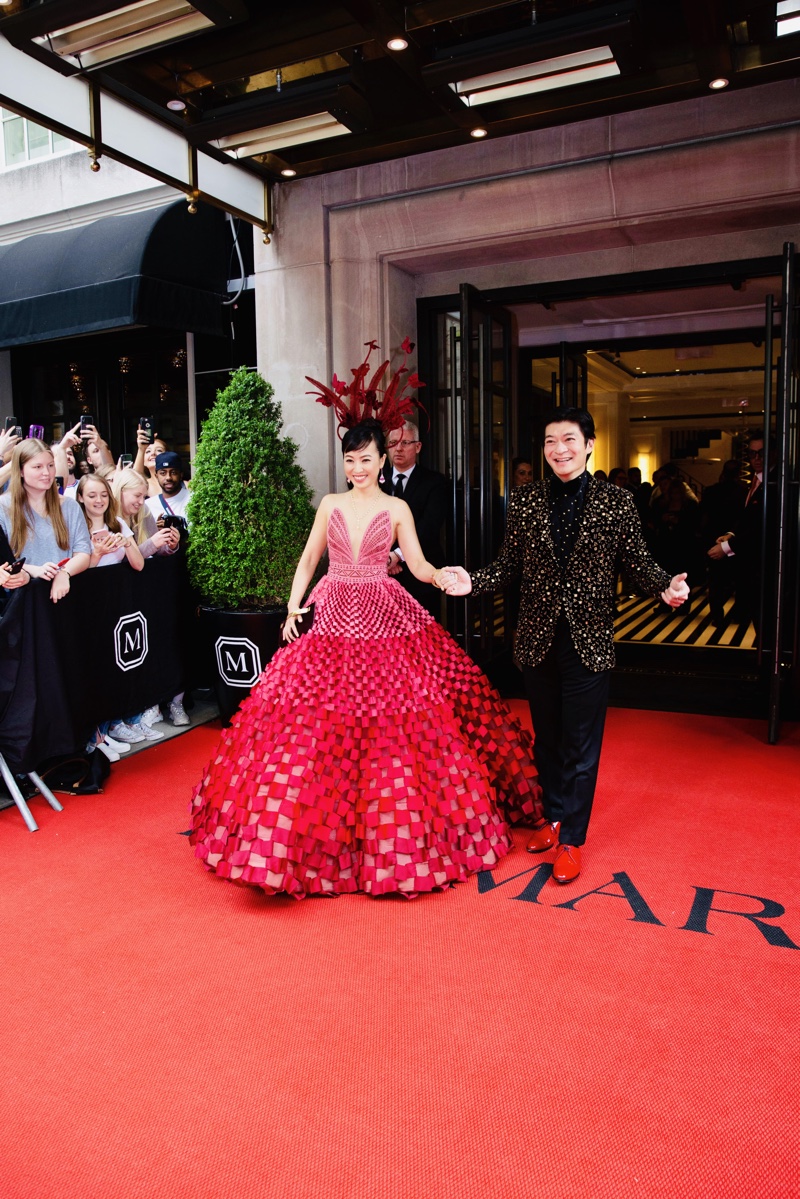 1955 Capital's Andrew Chung and his wife, Coral Chung, were looking forward to seeing the innovative interpretations of "About Time", the theme of the 2020 Met Gala on May 4 before Metropolitan Museum officials postponed the event indefinitely due to nationwide measures to curb the spread of the coronavirus.
As a successful investor in sustainable technologies for the past 15 years, Andrew Chung has been an active proponent of sustainable manufacturing practices in fashion. His wife, CEO of Senreve and a prominent California designer, recently launched a new vegan product line for her luxury handbag brand.
Andrew Chung sat down with us recently (virtually, of course) for an interview. He mentioned being disappointed that the Met Gala had been postponed. However, he and his wife understand the importance of social distancing in keeping the nation healthy. He reminisced a bit with us about attending the 2019 event.
What is the Met Gala?
The Met Gala is the highlight of the New York City social calendar and is widely regarded as one of the most prominent and most exclusive social events in the world with 550 star-studded attendees from fashion, entertainment, and finance. Traditionally held on the first Monday in May at the Metropolitan Museum of Art, this fundraising event marks the opening of the Anna Wintour Costume Center's annual fashion exhibit within the museum.
The theme of the fashion exhibit sets the tone for the evening's formal attire, and guests are expected to choose their fashion to match the theme. Unfortunately, the 2020 event has been postponed indefinitely due to the travel and social distancing restrictions caused by the coronavirus pandemic.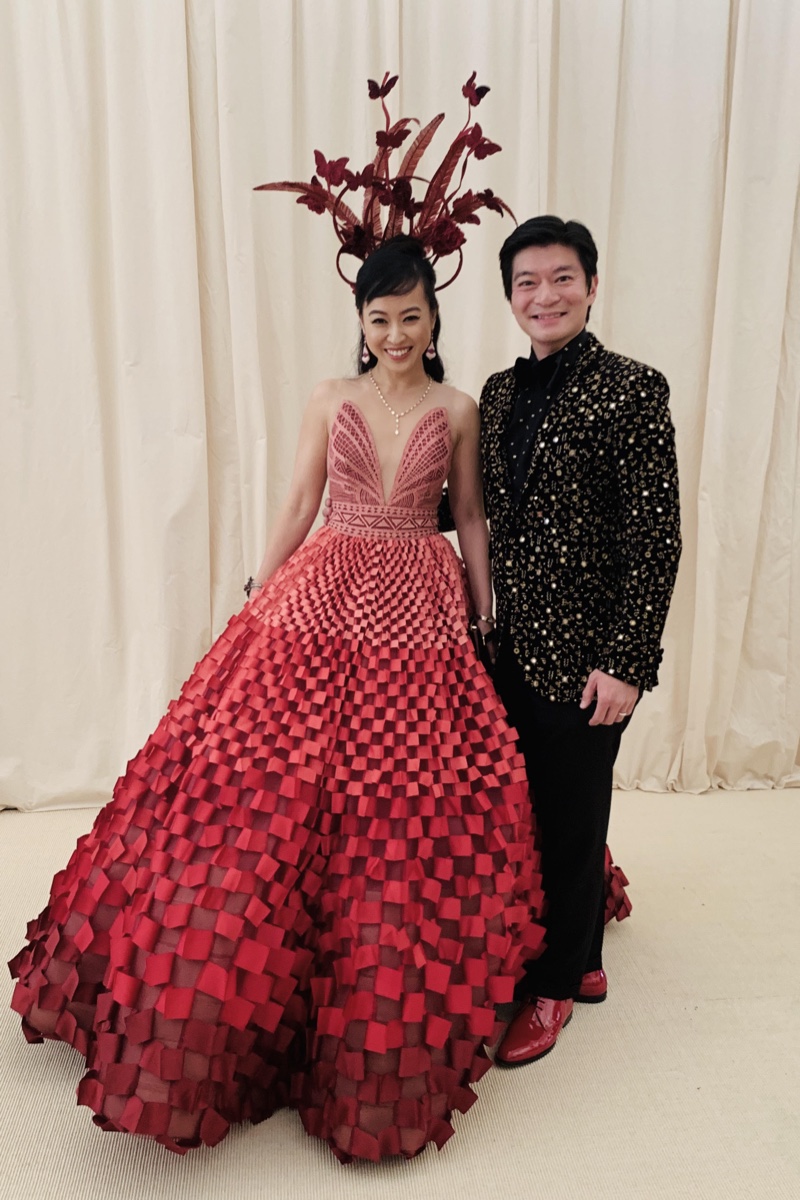 Mr. and Mrs. Chung at the 2019 Met Gala
The theme for last year's Met Gala was "Camp: Notes on Fashion," an intentionally enigmatic notion, based on Susan Sontag's 1964 essay "Notes on Camp." The concept was left to attendees to define with their fashion. Some defined it as "unique, absurd, and over-the-top." Others took a more traditional approach and defined it as casual. Some others were undecided and dressed as a question mark.
Coral Chung chose a strapless red and pink gown with a fitted bodice and full skirt of interlocked squares from Southeast Asian designer Sebastian Gunawan. Her jewelry included a graceful teardrop diamond necklace and pink quartz earrings. On the back of her head, she wore a flurry of feathers, butterflies, and velvet hoops. The combined result was elegant, fun, and unique. Andrew's attire for the evening was from Saint Laurent. He wore black pants, a black tuxedo shirt with a velvet bow tie, and a fanciful black jacket adorned with embroidered gold, green, and red symbols of the zodiac. On his feet were a pair of red patent leather shoes to match his wife's gown.
"One of the best nights of our life as Coral shined on the red carpet. There were so many fantastical moments it was hard to come back to reality," recalled Chung of the event. "It took a while to process all the emotions and inspiration from the night. Unforgettable."  Chung also had an opportunity to speak to numerous CEO's in the fashion world about the importance of sustainable products, better demand forecasting, and adopting "green" approaches to their supply chain. "Fashion accounts for 10% of global CO2 emissions and almost 90% of textiles are left unpurchased each year and end up in a landfill."
Of course, sharing the red carpet with celebrities on a rare night when they all let their guard down was fun too. Some of the most special encounters: from talking with Gal Gadot about his 6-year-old learning courage from Wonder Woman to reminiscing with Joan Collins on that time she was a guest on Star Trek, from Harry Styles encouraging Andrew Chung to record music again to discussing Burning Man and speculating on Sansa Stark's fate with Sophie Turner – the night was simply magical.
Andrew Chung explained that another reason he loves attending these kinds of functions, especially the Met Gala, is that it gives him an opportunity to see his beautiful and talented wife, Coral, in her element as a leader in fashion.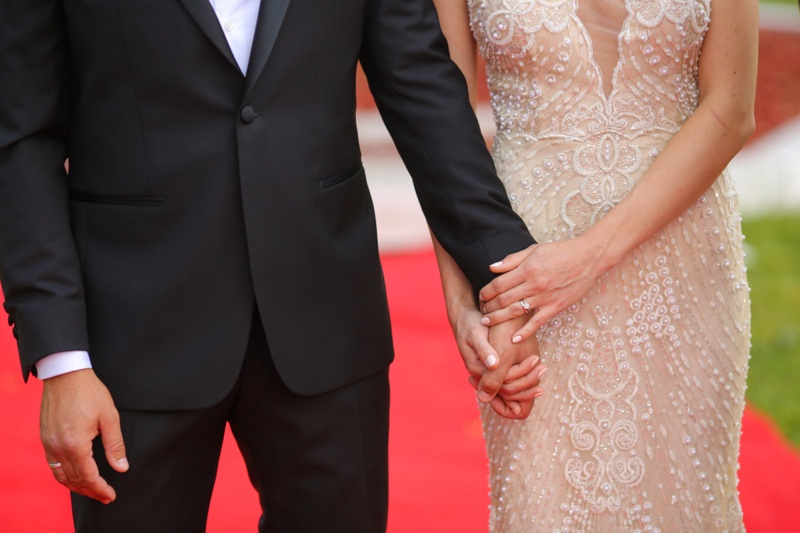 In addition to the Chungs, 2019 attendees included event chair and editor-in-chief of Vogue magazine, Anna Wintour; event co-chair Lady Gaga; designer Donatella Versace; singer, Celine Dion; and tennis star, Serena Williams. Besides Andrew, other attendees from the business world included Amazon founder Jeff Bezos, Blackstone founder Steve Schwartzman, and Uber founder Travis Kalanick.
Andrew and Coral are hoping next year's event will still be held and also hope the country has healed and gotten back to some sense of normalcy by then.
Life is not just about black-tie charity events for the Chungs. Andrew Chung is the founder and managing partner of 1955 Capital, a venture capital firm founded in 2015 by Chung to invest and help promote companies that address the developing world's most pressing challenges related to energy, healthcare, food, agriculture, education, and sustainable manufacturing. He was previously a general partner at Khosla Ventures, one of Silicon Valley's most powerful investment firms. Chung has more than 15 years of experience in investing in these sectors, and 1955 Capital, which is based in San Mateo, California, has been actively investing in innovative start-ups that help to restore and sustain our planet. 
Coral Chung is the co-founder and CEO of Senreve, a "luxury brand for the multi-faceted modern woman" that she and launched in 2016. Her company's high-end handbags have become an internet sensation.