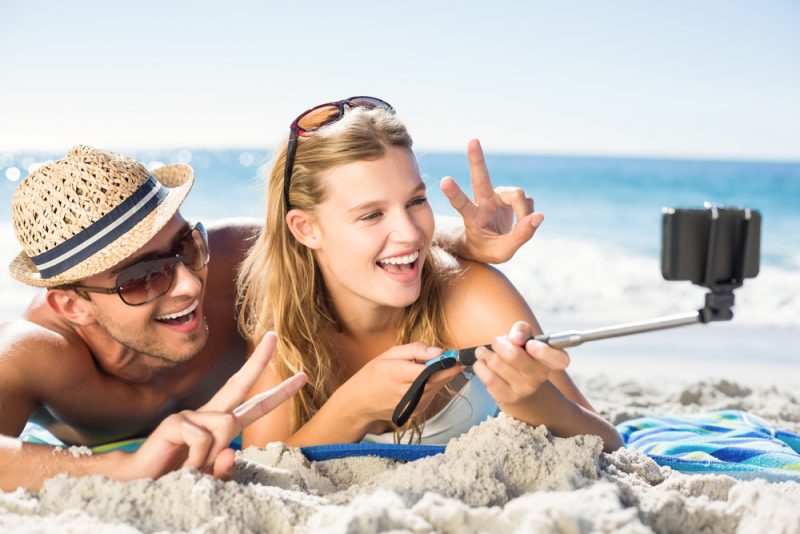 Done with the winter blahs, you're ready for your Spring Break — literally. You booked your flights, reserved a gorgeous apartment rental, and organized your itinerary. All that's left to do is wait until your departure date.
Whether you're planning on a beachside getaway or a backpacking adventure, don't let this time go to waste. It's a prime opportunity to improve your skills behind the lens so that you can return home with souvenirs in the form of beautiful vacay pics.
Check in with these tips to learn how you can make the most out of your iPhone XS and take Instagram worthy pics. Because let's be honest — part of the fun of a holiday is sharing photos you know will make your followers jealous.
Experiment with perspective
The iPhone XS is supposed to represent a new era of mobile photography. Although it will never rival a professional camera, it manages to take sharp, dynamic images regardless of your abilities as a photographer.
You'll notice its improved depth of field most when taking photos of sweeping vistas of mountain ranges, fields, or the ocean. However, it's still just a smartphone. It won't pick up the true sense of magnitude or depth you see IRL.
To capture a better representation of the size and grandeur of your environment, try adding something to the shot that will add perspective. You could try having your friend walk into the middle ground or point to something of interest in the background. Their smaller size will enhance the visual interest of your shot to help portray just how huge your surroundings are.
Mix things up
There's never any excuse for boring, clichéd composition. Just because you're visiting a popular destination visited by millions of tourists doesn't mean you have to take the same pictures as these travelers.
While there's nothing wrong with taking your picture next to a tourist site or popular landmark, there is something wrong with taking corny and unoriginal snaps. Think of just how many people try to take pictures of them holding up the Leaning Tower of Pisa or attempting to pinch the sun from their spot on the beach.
To be fair, it can be challenging to make a popular destination fresh, but don't let fear or self-consciousness hold you back. Remember, none of the locals will ever see you again, so go for that unusual position!
Be cautious
Take the above piece of advice with a grain of salt. Something like changing your view to get a different angle of a popular shot is a great way to mix things up. Putting yourself or your iPhone XS into a dangerous position isn't.
Far too often people end up hurting themselves (or worse) in the pursuit of the perfect snap. No photograph is worth your life, health, or phone.
Even seemingly ordinary situations and environments can be harmful if you aren't careful. Stretching your arm wide so you can get a snap with all your friends in the frame can put your XS at risk. One wrong move and you could fumble this expensive handset, sending it crashing to the ground.
Although the XS performs well in drop tests, there's no need to confirm it on your vacation. Increase your chances of keeping your smartphone in your hand with an iPhone XS skin. This fun accessory adds a little flair to your handset, wrapping it up in textures like black marble, concrete, and zebra wood.
More importantly, when you shop from a company like dbrand, you can get an iPhone XS skin that goes with a case. They have awesome new cases with grip so impressive they stick to the hood of a car as it speeds around a racetrack. You'll find it easier than ever to hold onto your iPhone XS skin, no matter what position you take. And just in case you do still manage to mess it up, the case is a carbon composite material that will stand up to any drop.
The main point of taking a trip this Spring Break is so that you can escape to a warmer climate and relax or chase adventure as you please. But a close runner up is bringing home photographic proof you took the trip of a lifetime. Make sure your pics prove just how epic your Spring Break was by remembering these tips while you travel.