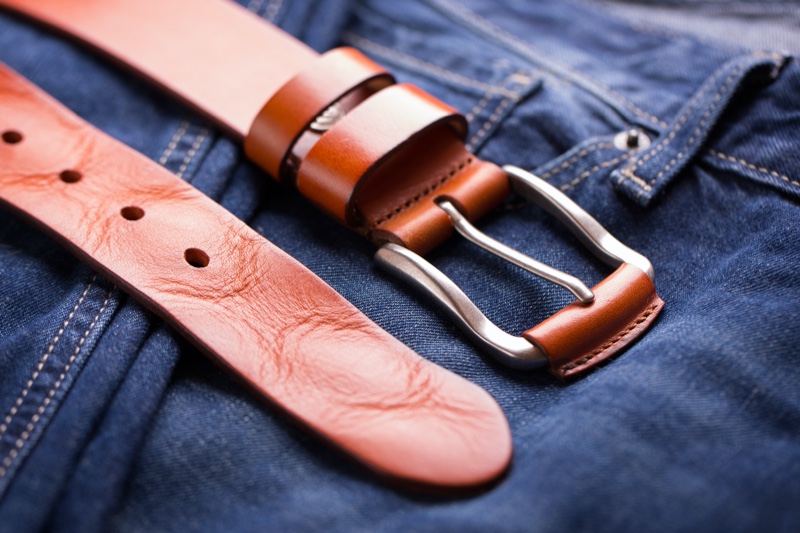 Most guys are used to wearing belts. It's a valuable companion that secures men's pants by cinching them around the waist with tension. They wear it for both functionality and fashion. Belts may appear to be a little accessory, yet they may significantly influence the impression men tend to create.
Leather is believed to be the most popular belt material for all genders. Such material can endure being bent, tightened, or folded without destruction. However, picking any leather belt at random could either bring the attire together or become a distraction that ruins the style. Therefore, knowing which qualities to look for in a leather belt is essential.
Von Baer Leather Belts: A Standard Among Leather Belts
Leather belts are pretty versatile. Men can wear them to a semi-formal event or out at work for utility. Belts in colors black and brown tend to complement and harmonize with any color of the garment. However, not all leather belts are the same. 
Some leather belt brands, such as Von Baer's belts, stand out from the others. Vonbaer.ee sell full-grain leather belts, which are the highest quality available, and their range includes reversible and thick leather belts in brown or black. Their belts are distinguished by genuine cow leather and stainless steel or brass buckles. 
Von Baer's signature styles have the characteristics and standards you should search for in men's leather belts. Still, quality belts aren't just found at Von Baer. There are yet other brands that sell high-quality belts. So, what qualities and features to look for for a premium belt like Von Baer's?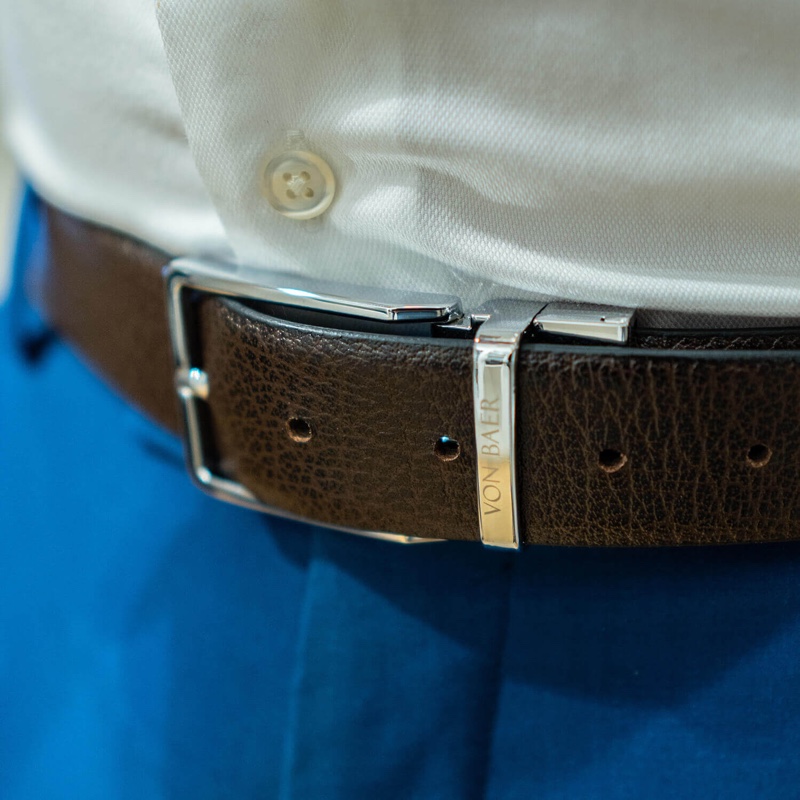 Qualities to Look for in a Men's Leather Belt
As previously said, not all men's belts are made equal. And suppose your new leather belt is constructed of low-quality materials, such as bonded or authentic leather belts. In that case, it will most likely break easily or feel uncomfortable on your waist.
If you're new to leather belts, keep reading to discover how to evaluate a belt's quality and pick the finest one available:
1. Smooth Finishing Touches
Leather belts are available in various textures, but a belt with a clean finish is probably your best pick. Belts with a smooth surface are less likely to tarnish over time. They're also less difficult to clean as you may need to use any leather soap and conditioner.
On the other hand, suede belts may require professional cleaners and might discolor if inappropriate cleaners are used. Although this seems minor, you don't want a belt to become tarnished and discolored just when cleaning it.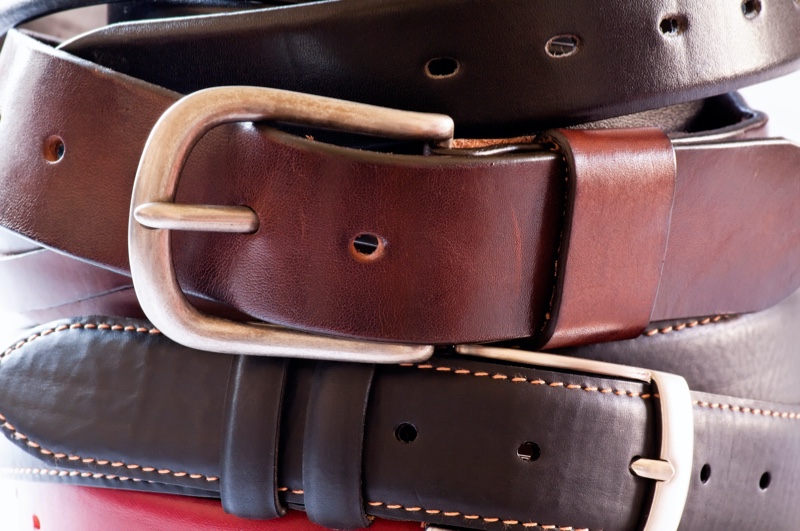 2. Perfectly Shaped Form
It'd help if you chose a belt shape that flatters you and your attire. Luckily, belt buckle forms are pretty variable so men can get very imaginative about their size and design choices! You'll most likely find O-ring, D-ring, and plate buckle frames. The most common style is the frame buckle, a rectangular buckle with a prong that latches into the holes for cinching.
3. Solid Hardware
The leather portion of a belt may endure indefinitely if adequately cared for by curing it. The belt's hardware—the buckle usually made of metal—is generally the first to wear out. When choosing a leather belt, pay particular attention to the buckle's quality. The greater the weight and thickness of the metal, the better. Also, you should seek a belt with a stainless-steel buckle instead of a nickel buckle.
4. Suitable Weight & Thickness
A leather belt's weight and thickness are strong indicators of its quality. Some belts are constructed of less costly, thinner leather than others. Most of the time, a high-quality belt is heavier as more calfskin is utilized in its production. The heavier the belt, the higher the quality. Though quality belts for men are heavy and thick, they're still pleasant to wear all day.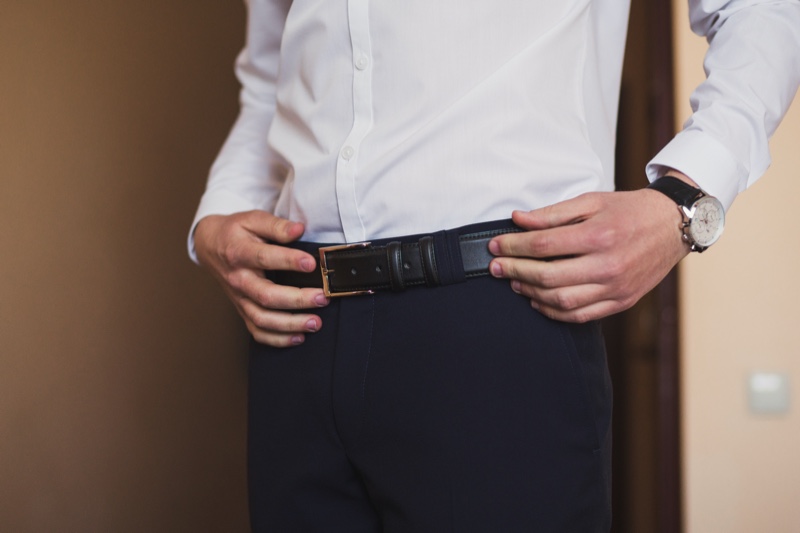 5. Tough
Given the abundance of leather belts, you should never overlook their durability. A strong belt can endure incredible force. That means it'll likely come out entirely intact no matter what you put your belt through.
6. Versatile
A good belt is multifunctional. A top-quality leather belt will look great whether you're dressed casually in jeans and a T-shirt or formally in a suit and tie. Even if you're camping for the weekend, your leather belt should be robust enough to handle rigorous camping activities and comfortable enough to wear when sitting around the campfire.
7. Has Moderate Width
When coupled with jeans with a wide belt loop, a leather belt that's too thin may seem comical. Likewise, an excessively thick leather belt may not fit your pants' belt straps. In general, a medium-width belt is your safest and most versatile pick.
Look for a leather belt with a width of between one inch and 1.5 inches. A 1.5-inch leather belt is an ideal width to attract attention, provides excellent trouser support, and fits most belt loops. A 1-inch belt, on the other hand, may be suitable if you wear a smaller size or dislike the hefty appearance.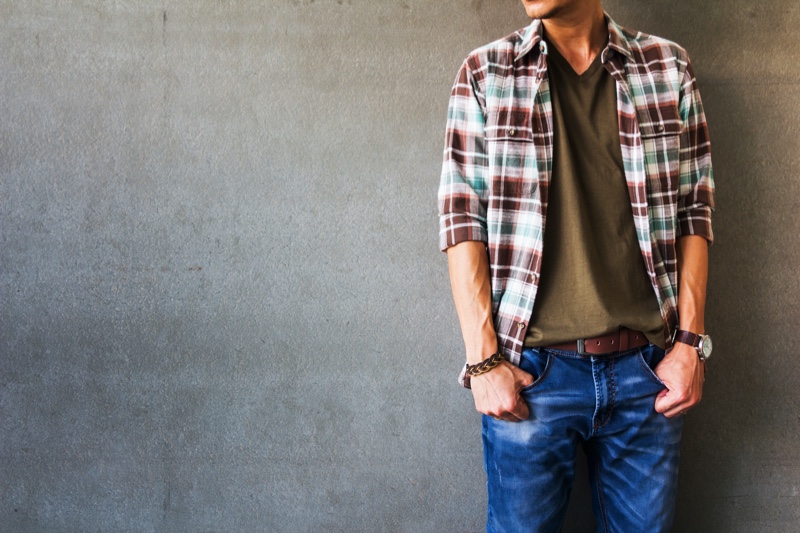 8. Is Properly Constructed
The other central aspect influencing the quality and price of a belt is its construction. Wherever the leather has been sewed, look for neat, precise stitching with no loose threads. Snapped belts may be interchanged with other buckles, whereas sewn belts can only be worn with one buckle. Some men prefer the freedom of a snapped belt over a stitched one since it allows them to change out the buckle whenever they want.
The Bottom Line
Given how standard belts are, it should be no surprise that so many gentlemen choose any belt. Belts, nonetheless, are more than merely a fashion element. Whether you're going somewhere formal or not, a belt will always help you look polished and clean.
Finding the right belt might be challenging, but the qualities described above should make it easier to narrow your search. But a leather belt with good width, a smooth finish, strong hardware, versatility and toughness, and a thick and durable buckle should last you for many years.