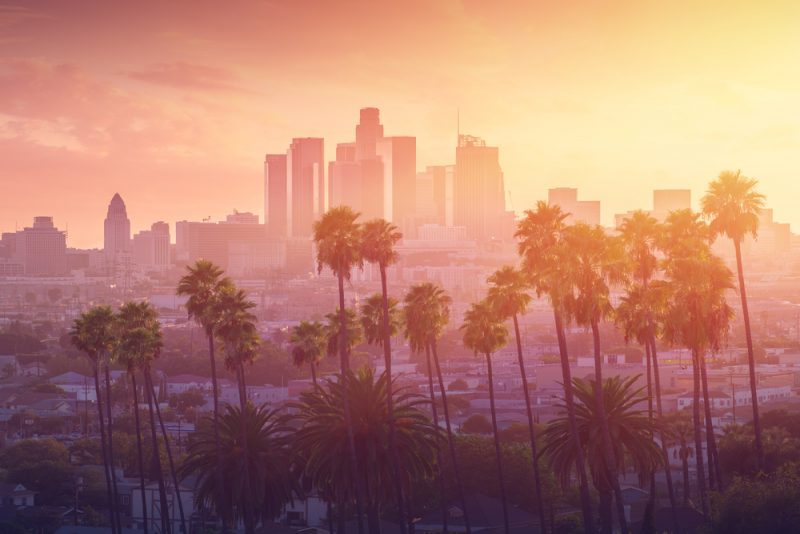 Los Angeles, California, is a premier holiday destination, not just for local Americans but also for international globe trotters. Los Angeles is famous for its tropical weather, lovely beaches, and the whole host of fun activities and places you can visit. It is the ultimate combination of modern, rustic, and natural travel sites! Here are the 7 things you cannot miss out on if you go to LA:
Architecture Tours: LA is a marvel of modern engineering. The sheer amount and scale of skyscrapers and architectural wonders in Downtown Los Angeles make for a breathtaking days' worth of exploration. Silver Lake, Hollywood, Beverly Hills are the highlights.
Watch a Drive-in Movie: A unique attraction in LA is the ongoing cinemas that cater to customers' drive. Park your car in the field, and watch a movie from the comfort of your seat. Vineland Drive-in is a very old and famous theatre.

Photo Credit: Shutterstock

Visit Venice Beach: Venice Beach is a place with a unique atmosphere. It's not just a haven for fitness freaks, but it is also jam-packed without unique and quirky attractions. Street dancers, musicians, drama artists all can be seen performing on the shores of Venice Beach. And if you get bored of the people, there is always the Pacific Ocean's coastline that you can enjoy a dip in.

Photo Credit: Ingus Kruklitis / Shutterstock.com

Hollywood: The home of the modern movie industry, Hollywood is a place you cannot skip. From the Walk of Fame stars to Sunset Boulevard, roaming around the area knowing the birthplace of your favorite movie is an exhilarating experience. The heritage and beauty of a Hollywood tour are truly beyond the stars.
Santa Monica Farmer's Market: When we say that fresh ingredients straight from the farm are the tastiest, the wares of Santa Monica's Farmer's Market is what we refer to. It is a weekly year-round market that only sells the freshest of fruits and vegetables from organic and sustainable local farmers. A tour of the market gives you a perspective on the culture of food and eating present in Downtown Los Angeles.
Visit the Zoo: Los Angeles Zoo is a decades-old facility that houses hundreds of international wildlife varieties. One of the most ingenious zoo schemes is a program that allows civilians and visitors to meet and interact with some of the well trained and prettiest animals that live in the Zoo.
Art Exploration: Being a modern metropolis, LA has attracted artists from all corners of the world. Due to wealthy art connoisseurs, several heritage and modern Art Museums and Galleries dotted around LA. The California African American Museum, the Autry Museum, and Natural History Museum are some of the most popular options.
Los Angeles is one of the most beautiful cities in the United States of America. Every traveler that goes there has a plethora of options to explore, enjoy, and remember. We hope this article helps you narrow down your itinerary for your next great travel!