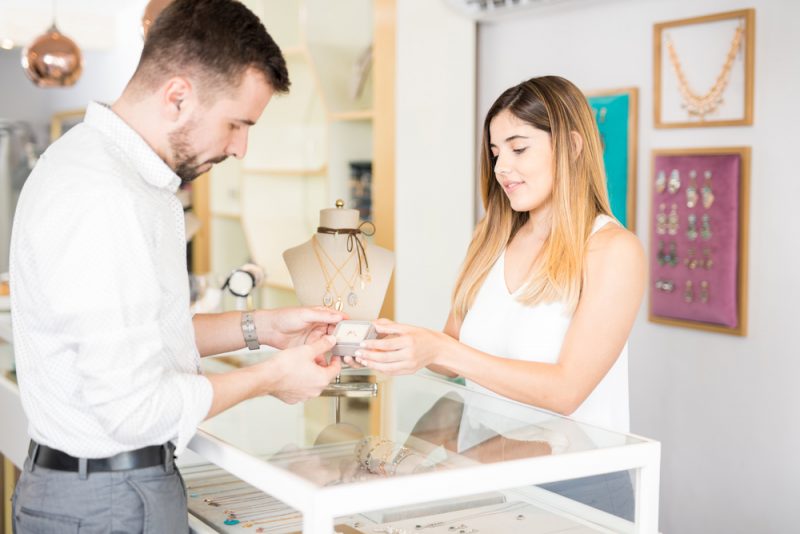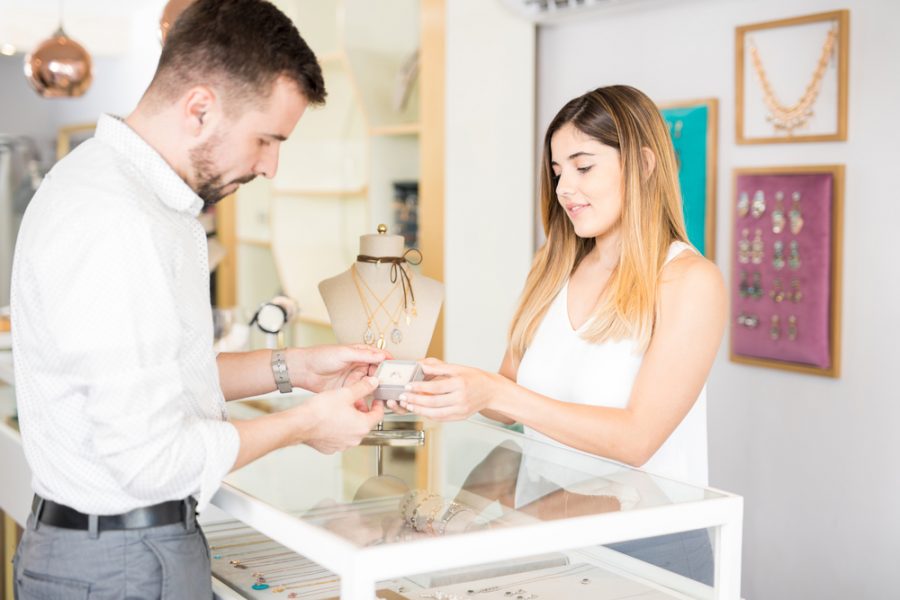 Buying an engagement ring for your partner isn't rocket science. Yet so many guys seem to have a hard time as they aimlessly wander jewelry store corners looking at glassed displays. If you have no experience of buying jewelry, this dumbed-down post is perfect for you. Without going into any technical details, we reveal the best ways to sidestep common engagement ring buying mistakes.
Not Knowing Her Style Preference
Even if you think you know your partner, it's not worth taking a chance. Ask a friend or check out her Pinterest to find out what she loves and dislikes. Most women have specific preferences when it comes to jewelry. Some prefer bold designs that make a statement while others like simple, understated styles.
Fix: Checkout her jewelry box for clues or ask her close friend.
Setting an Unrealistic Budget Without Proper Research
A lot of men don't have the first clue about how much engagement rings cost. They often suffer from the belief that they can buy a "decent" engagement ring for about five hundred bucks. If you are willing to settle for a titanium ring with semi-precious stones, that estimate is good. However, it's almost impossible to find a good platinum diamond engagement ring below a thousand bucks.
Fix: Research prices early on and start saving up.
Buying a Non-Refundable Ring
Some jewelry stores encourage customers to buy custom rings. This means you select the ring and the stone separately. However, the problem with custom engagement rings is that they are rarely returnable. Most jewelry store executives probably wouldn't share that detail if you do not ask.
Fix: Make sure to ask if you can return the ring and get a refund.
Not Looking Beyond Chain Stores
Chains stores are a great place to shop, and they usually have a pretty extensive collection of engagement rings. While they do offer a great blend of customer service and collection, chain store rings are more expensive. Chain store executives are also known for employing upselling tactics to get you to spend more. Chain stores also have a limited collection of budget engagement rings. You will face a hard time finding unique UK engagement rings made from alternative metals and gems in a high-end store.
Fix: Go to a chain store and visit online engagement ring shopping sites before making a decision.
Shopping at Department Store Jewelry Stores
Shopping malls are never the right place to buy jewelry. The lights in the mall make everything look fancier than they are. Most department store jewelry stores also have a limited collection and if you have a hard time saying no these are the worst place to shop. Shopping mall jewelry executives often try to push sell jewelry items you don't want. Now, because they usually have a limited collection, you are much more likely to buy something you are not onboard with.
Fix: Don't go to a department store jewelry store.
Judging an Engagement Ring by Its Specifications
It's good to know the three Cs, but when it comes to picking a ring, it's best to trust your eyes. It doesn't matter what the grade and carat numbers are if you don't love what you see.
Fix: Declare your budget when you walk in and pick the one that looks the most beautiful to you.
Trying to Guess Her Ring Size
A lot of rings made from titanium, cobalt, and tungsten cannot be resized. This is why it's never a good idea to guesstimate her size.
Fix: Borrow an existing ring she can currently wear comfortably and bring it to the store.