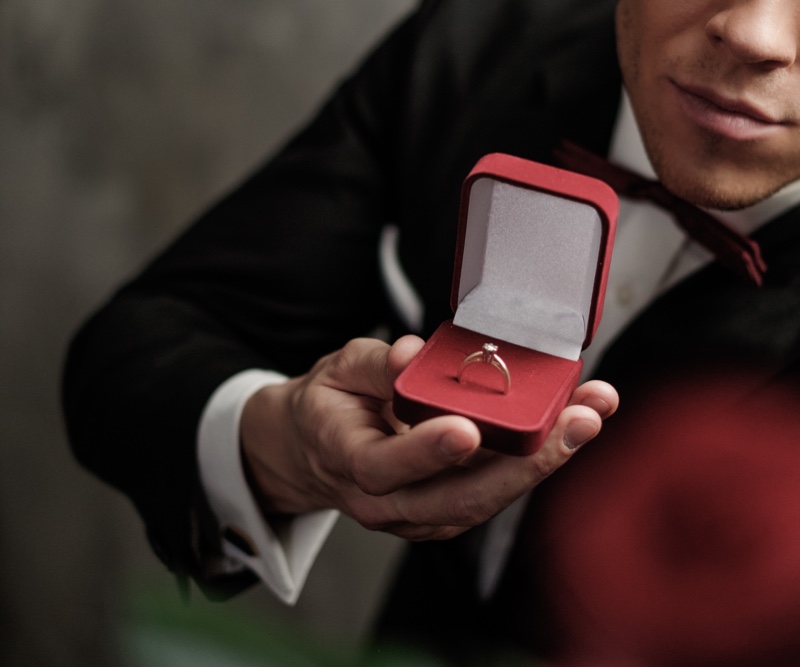 Being engaged is one of life's most significant and unforgettable events. The ideal ring is the icing on the cake! However, knowing where to begin with so many types and patterns to select from can be challenging.
The old standards no longer apply; nowadays, it is all about the personality and the engagement ring that expresses their style, taste, and values. Of course, a sparkler is also available for any budget.
Keep reading our guide to know every engagement ring style if you're preparing to propose – or if you want to offer your other half some shopping suggestions. Also, search for St Thomas jewelry stores virgin islands for more stunning jewelry.
Engagement Rings: The Twelve Styles to Dazzle Your Eyes
Now check out the twelve styles you might have for your engagement.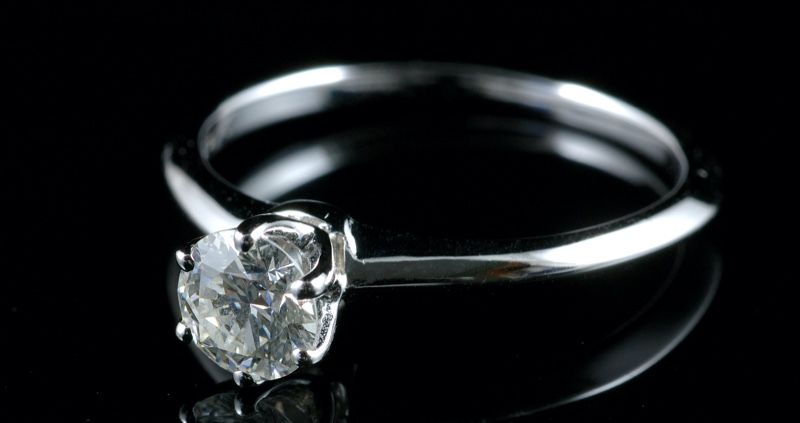 Solitaire
The most basic and conventional engagement ring style is the solitaire. The word solitaire refers to the fact that there is only one stone in the pattern. A solitaire diamond is frequently put on a simple ring with a prong or claw setting to highlight its brilliance.
The solitaire style is a good choice if you have an essential and elegant taste. It's also the sort of ring that stands out from the crowd and never goes out of style, so you can be sure you'll enjoy it forever.
Cluster
Cluster settings combine many modest stones to mimic the look of a bigger diamond. As a result, they're also known as 'illusion' rings. As a result, they are an excellent low-cost engagement ring alternative.
Cluster diamonds are an excellent method to increase the brightness and brilliance of your diamond without breaking the bank. It's also flexible because you may choose a classic circle cluster or a more distinctive and trendy asymmetrical design.
Pavé
A pavé setting is a lovely way to customize an engagement ring. The method entails inserting little diamonds — or other stones – within the ring's band. The ring will catch more light and appear to shine on your finger. Replace some gems with your partner's or child's birthstone to add a personal touch to the design. Pavé rings have a delicate and feminine appearance and may easily complement a plain circle.
Cathedral
Because of its historical and magnificent appearance, the cathedral setting has been popular for many years. The way the steel of the shank and shoulders curl up to support the diamond gives it its name. These curves are reminiscent of cathedral arches.
They can be set with pavé diamonds for added glitz, or they can be kept simple. The Cathedral style's structure and architectural flair make it a good option for an engagement ring.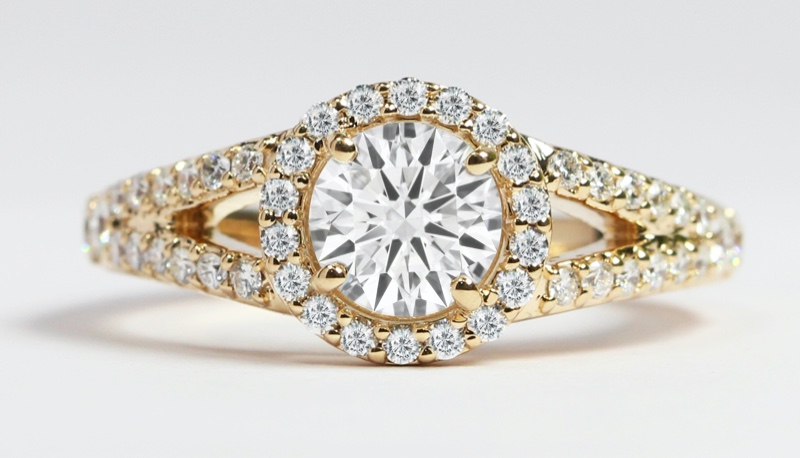 Halo
The halo is one of the most fashionable engagement ring types. It's perfect because it provides a brilliant sheen while allowing the center stone to show. A halo or border is created around the central stone by smaller pavé-set diamonds. The halo stones reflect light onto the main stone, making it appear brighter and sparklier.
A halo setting is a stunning technique to highlight a dazzling white diamond or make a smaller stone appear more prominent. It may create a dramatic contrast if you pick a color gem for the center stone, such as sapphire, ruby, morganite, or pink diamond.
Oval Halo
The circular halo shape is the way to go if you want to optimize the size of your engagement ring. Oval-cut diamonds appear larger than other gems of the same carat weight because they are elongated.
Moreover, the halo setting adds glitter to the ring while increasing its breadth, making it look larger. On the other hand, an oval halo ring will not appear overdone and has a royal, classic appearance that will make any woman feel like a princess.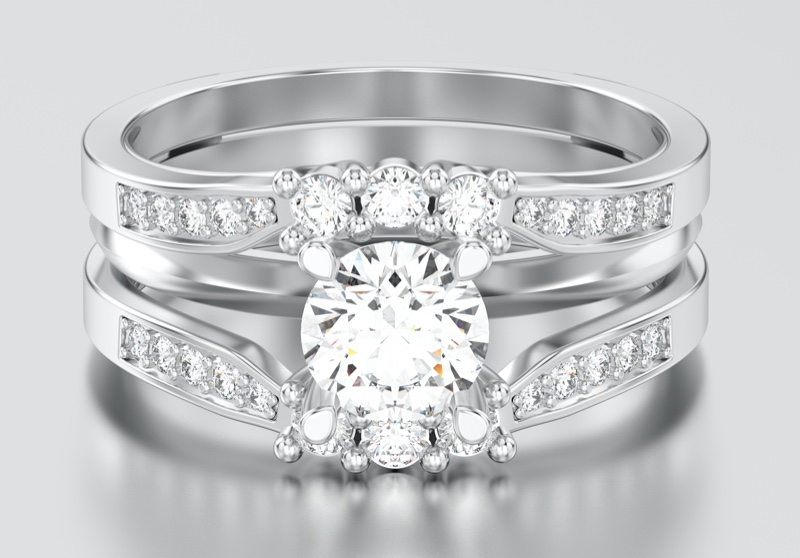 Ring with Shank & Split Shank
Changing the shank – the ring's band – is one of the simplest ways to personalize an engagement ring. While there are numerous other styles, the split-shank is one of the most common.
On either side of the center stone, the ring's band splits in half, creating a tiny space. A more significant divide gives a ring an ancient sense, especially if it's adorned with pavé diamonds, and a minor separation gives it a modern vibe. On the other hand, a smaller split is a subtle method to make the central stone appear larger.
Engagement Ring with Bezel
One of the most secure ring settings is the bezel. Instead of being lifted on prongs, a metal border holds the gem in place. The bezel setting is a brilliant option for an engagement ring since the stone is less likely to be damaged or fall out.
Bezel engagement rings are more costly than prong-set rings, but they don't require as much maintenance. This is because there are no claws that need to be examined or tightened over time. However, because less light can penetrate the center stone, it may look more petite.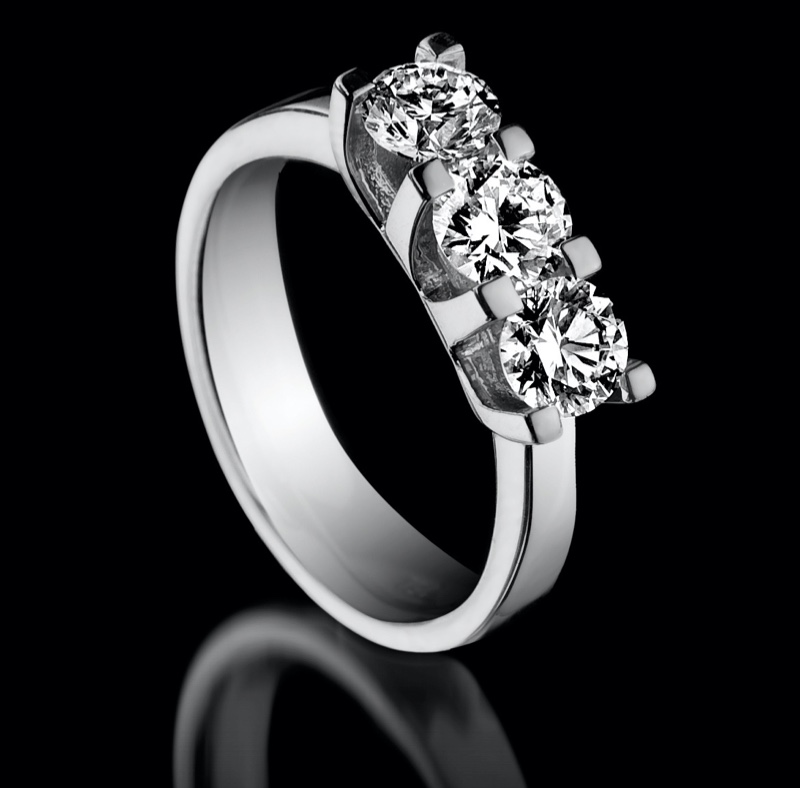 Three-stone Design
Three-stone engagement rings, sometimes known as the 'trilogy' form, are a very romantic choice. That's because the three stones are symbolic, and tradition has it that they represent the past, present, and future, or you, me, and us. According to the size, kind, and form of the stones used, trilogy rings may vary in flexibility.
A massive diamond in the middle with two smaller stones around or three mid-size rocks of equal size is a common choice. Use a color gemstone as the centerpiece and complement it with diamonds for a contemporary spin on the trio design. Whatever you choose, this design is both beautiful and meaningful.
Engagement Ring with Eternity Band
The eternity band is the perfect embodiment of eternal love. The ring's band comprises an uninterrupted chain of diamonds that goes on forever. Depending on the wearer's style, the diamonds on an eternity ring might be pavé, channel, or French set.
A matching eternity ring is traditionally given on a milestone wedding anniversary or the birth of a couple's first child. On the other hand, some couples customize this present by replacing the bride's engagement ring with an eternity band.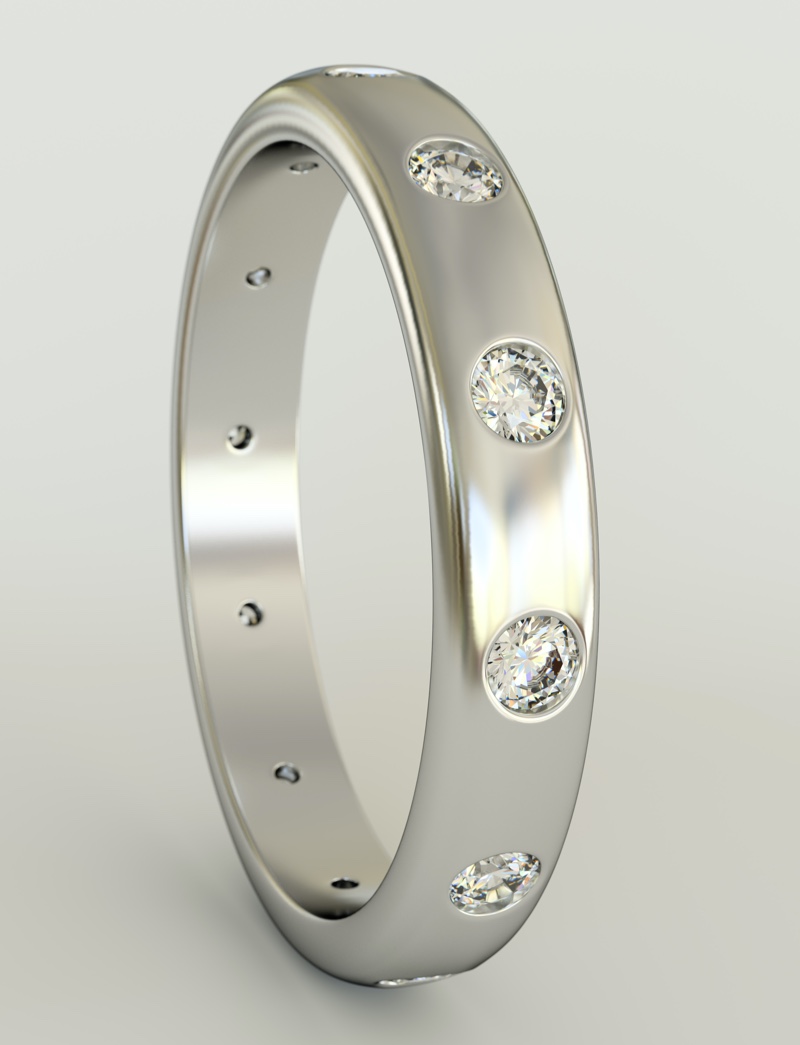 Flush Setting Ring
A flush setting is a stylish engagement ring alternative. In this style, the diamond is positioned inside the band of its surface and does not protrude. This ring is not only modern and modest, but it is also highly secure as the diamond is pressed into place.
Flush setting rings are ideal for someone who maintains an active lifestyle while maintaining a refined sense of elegance. The design is also highly popular with males, so that it may be the perfect choice for your Prince Charming's proposal.
Engagement Ring with Tension Setting
Last but not least is the tension setting type. It is a distinctive engagement ring design that, instead of having prongs or a bezel, the stone is held in place by pressure between the two parts of the shank. Hidden spring loading and channels etched into the metal keep the stone quiet and secure.
As a result, it appears suspended in mid-air, creating an intriguing visual effect for this ring type. If you enjoy the aesthetic of a tension-set engagement ring, keep in mind that only tough stones like diamond, sapphire, ruby, and moissanite are suited for the technique.