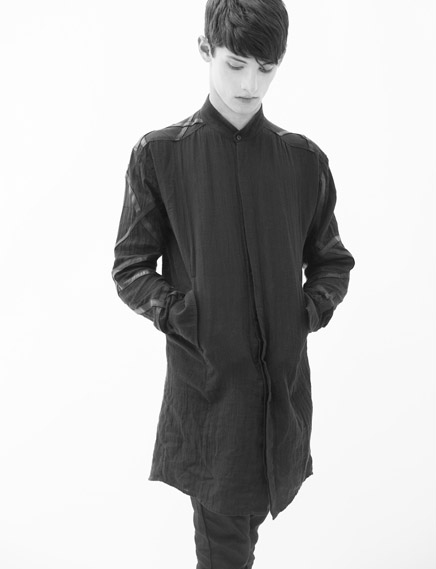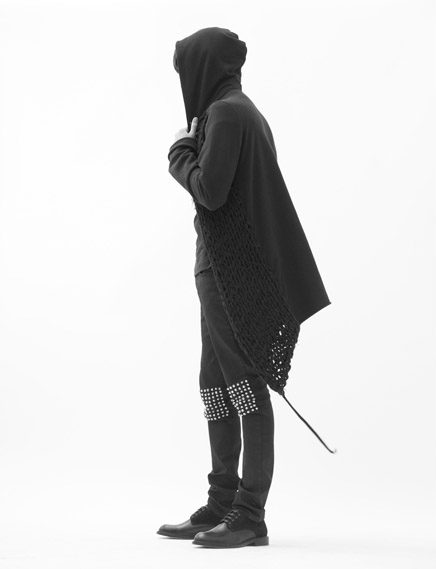 Lina Österman Fall 2009
This past week saw a spate of Fall 2009 collections which, cumulatively, did little to disrupt the recent trends in men's fashion: if they're not going for black, then they're going for androgyny. Given I have a bias in favour of both movements (Sonny Groo is my style icon after all), I found a lot to admire in the last 7 days.
For starters, there's Lina Österman's second collection, which offers a sensibility vastly different from (the difference being adventure) that of Pudel, where she plays Creative Director.
Her collection has been criticized a little on Coûte Que Coûte for essentially pandering to the whims of fashion bloggers, failing to re-interpret the supposedly hackneyed concepts of lace, shredding and, well, black. Moving past the notion that black will never go out of style (even if we'd like it to), I think there is some merit in what Österman has on show. For one, she plays with expectations. She avoids the timeworn addition of epaulets and instead uses leather to define the shoulders; she provides us with shredding and sheerness in places that, wait for it, might actually be appropriate; and she embellishes denim, rather than tearing it. Where Österman succeeds most, though, is in her restraint. The collection embraces a Gothic flair without ever descending into the wild, less accessible (but perhaps more interesting?) theatre that gothicism often thrives on. (That doesn't mean we didn't love this over at Contributing Editor.)
<!–more–>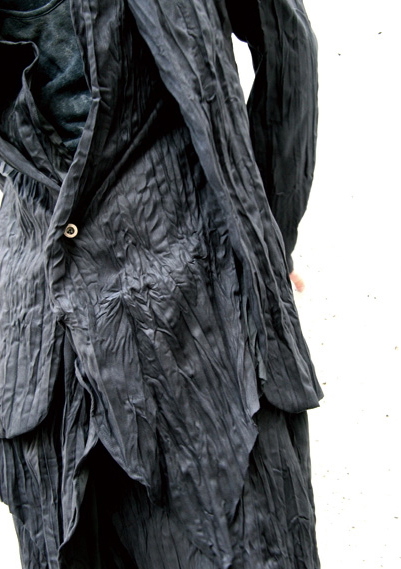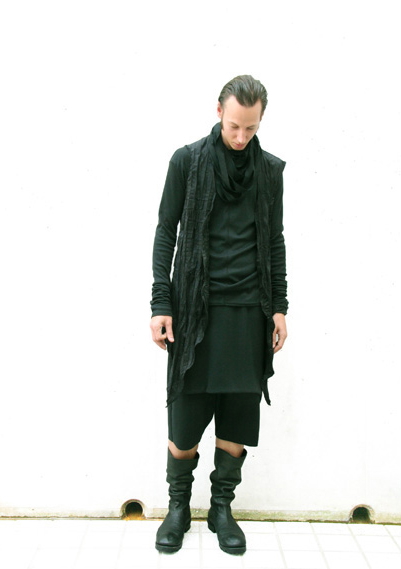 Noize Fall 2009
"Brilliant Tar", the latest offering from Japan-based label Noize, is a bit of a conundrum. While I love what this collection does 'on paper' (and why shouldn't I with echoes of Rick Owens amidst a use of materials reminiscent of Chronicles of Never?), in reality it lacks diversity. What's that? How can black be diverse? Song Zio will show you how. Noize, I'm not so sure about. Again, Gothic elements are at play her,e but a collection that relies almost solely on dyed, pre-wrinkled garments mixed with a variation on a skort will have trouble sustaining my interest. Some of what is here provides a bold and ultimately fruitful addition to any wardrobe…it's just that "Brilliant Tar" sets a level and stays there, which leaves me nothing to do but plateau.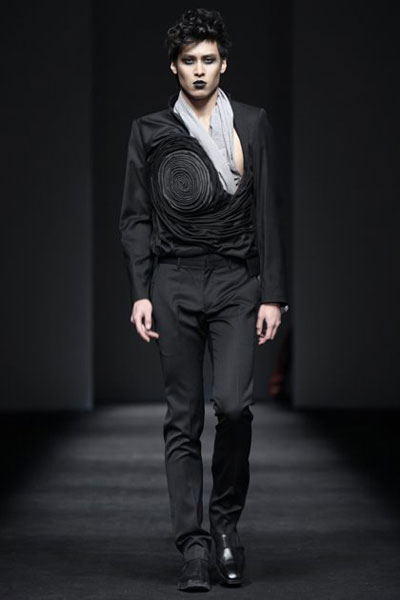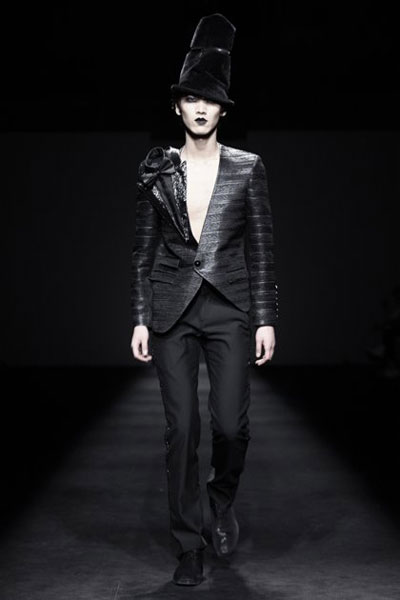 Chi Zhang Fall 2009
Staying in Asia, I took a closer look this week at what Beijing-born designer Chi Zhang had revealed at Shanghai Fashion Week (thanks to Coûte Que Coûte).
Androgyny isn't men looking like women – that's best left to transvestism; it's men looking like women who look like men (or, more to the point, the creation of indeterminate gender). In that respect, what Chi Zhang has generated for Fall 09/10 is really androgynous…and I really like it. I was in Brooklyn earlier this year and had a conversation with a man who tried to convince me to wear high-waisted pants, but I just couldn't see it happening. Now, slowly, I've been craving picking up a pair and Chi Zhang exhorts me to not stop there but to go for the whole kit and kaboodle: puffy sleeves; edgy, defined shoulders; quasi-ornamental pieces; and, yep, pink synthetic trousers. This isn't the most wearable or consumer-friendly collection but it's not supposed to be – it's intended to serve as a springboard for inquiry and discussion about the codified distinction between male and female fashion. For that I salute it.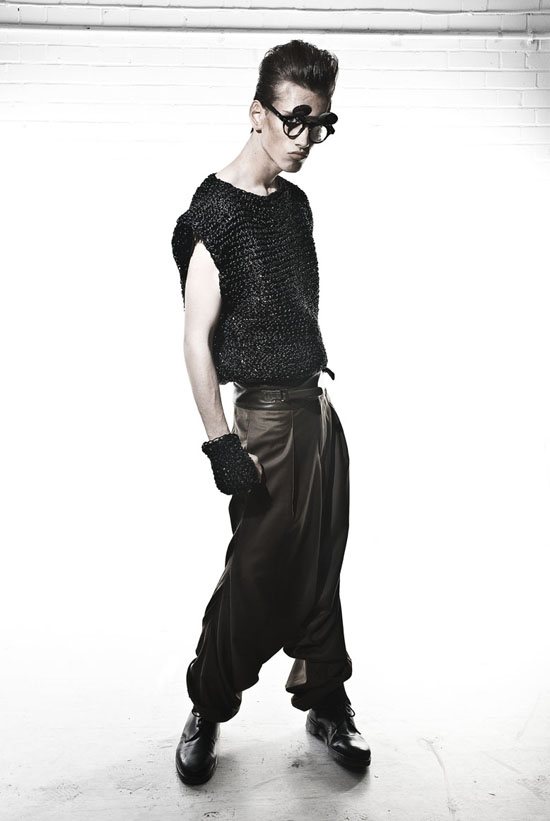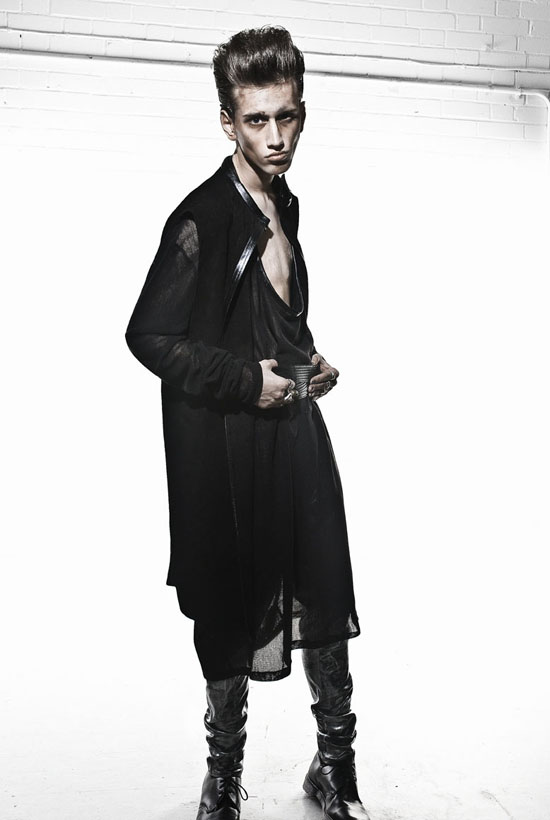 Asger Juel Larsen Fall 2009
The final collection reviewed is far and away my favourite of the week. Quite surprising, too. Not because it's newcomer Asger Juel Larsen's first public collection, which was shown at London College of Fashion, but because for all the mounting hype over androgyny and gender-ambivalence, here is a collection that went the other way and redefined the power of masculinity.
Chain mail, PVC, weaved synthetics – these are some of the materials Larsen relied upon. Raw, rough, bold materials. Manly materials. But as if that's not enough, he threw all convention out the window and mixed them in thought-provoking ways. The metal mesh of chain mail armour finds itself alongside billowing, seemingly satin, trousers, for example; while linen functions as a counterpoint to PVC pants. There is an air of Gareth Pugh Fall 2009 when you consider the synthetic blends and overarching medieval inspiration; there is a sense of Damir Doma in the linen weaves and handling of proportion; but at the same time the collection is all his own. And there is an irony at play here: by reacquainting himself with more 'traditional', indeed archaic, ancient silhouettes, Larsen manages to dislodge contemporary tendencies and be ahead of the times by challenging what has rather quickly become commonplace. In short, he's using the old, the really old, as something new in order to subvert the current.