MAN
London Fashion Week closed with the MAN runway show.  MAN is a collaboration between Topman and Fashion East.  Each year, the panel behind MAN is dedicated to finding the newest talent in menswear to showcase.  This year, James Long and Hans Madsen were invited back to show for the second time with newcomer James Long.  Also featured on the runway is the Topman Design collection for the sophisticated Topman customer a cut above the rest.
Reading the pieces that London Fashion Week organizers compiled on each of the designers assists in a greater appreciation for the collections.  After reading, it became clear what each designer is trying to do with their work.  A personal favorite out of the three designers is Hans Madsen and his knits.
Topman Design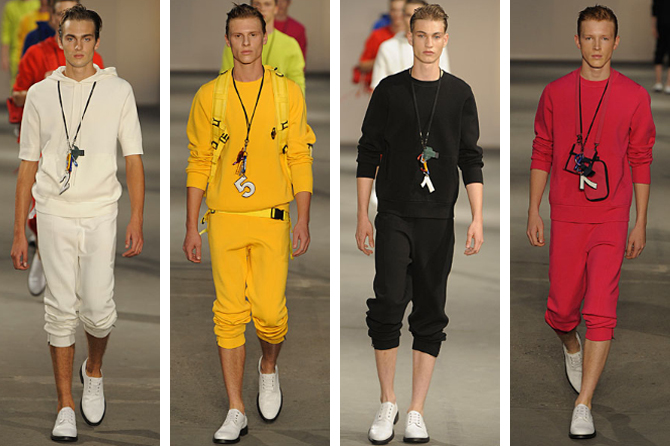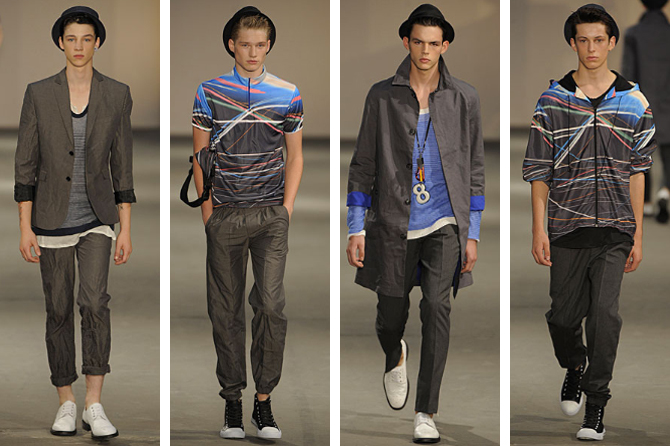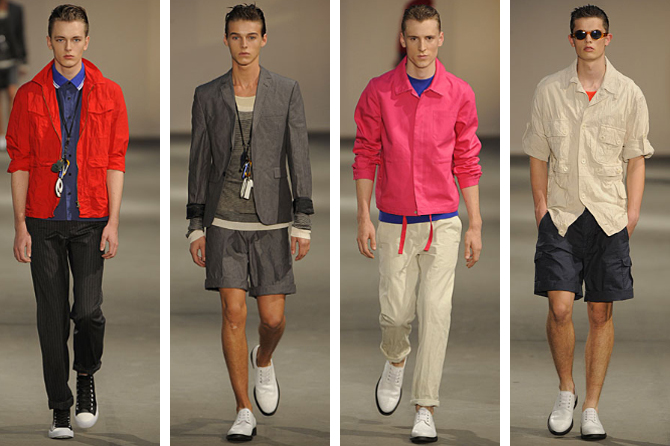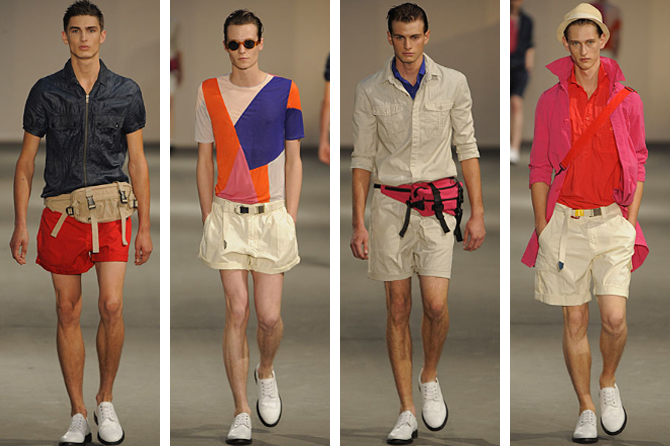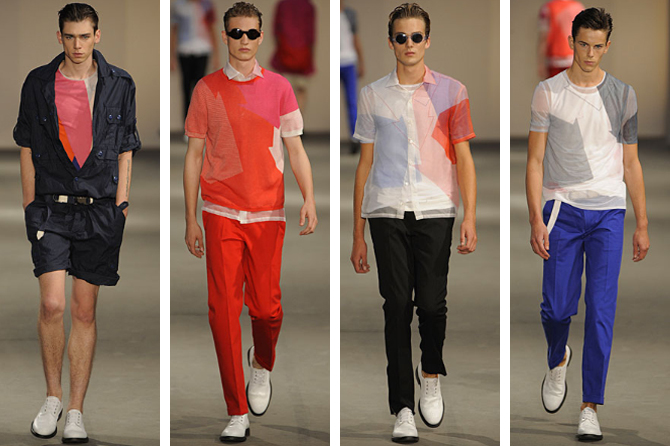 Christopher Shannon
"Gaining a scholarship on the Central St Martins MA Menswear course by the formidable professor Louise Wilson, the first of it's kind in 10 years, Christopher Shannon moved to London from his native Liverpool, and has worked as design assistant to both Richard James and Kim Jones.  Having worked on Kylie's creative team for 2 years, he met his teen hero Judy Blame, working 2 seasons on a collaborative luxury print clothing label with him, which sold out in some of the most prestigious boutiques and stores.  His graduate collection, which features collaborative pieces with sponsors who include: Eastpak, Nike, New Balance, and Levis, and fabrics sponsored by Calvin Klein, is currently stocked in Colette.  He has reworked shell suits and sports pieces in new fabrications with a nod to Northern style and market stall bootlegging, and lots of reversible elements, something he describes as 'refined scallyism'.  He was awarded the Dunhill Menswear Award earlier this year."  Christopher Shannon Official Website [London Fashion Week]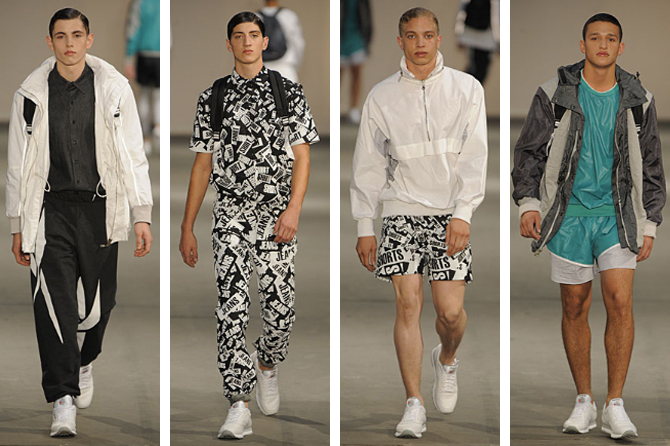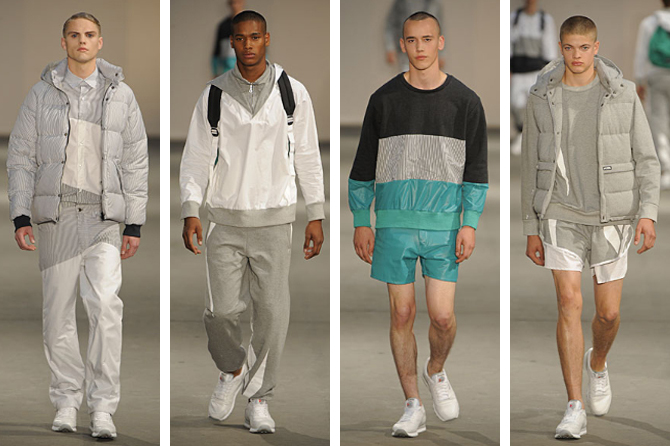 Hans Madsen
"Danish native Hans Madsen graduated with an MA in Knitwear from the Royal College of Art in 2007, recognised for his well-crafted, conceptual and approachable pieces.  His process-orientated approach to design where beautiful simplicity meets the minimalism and meditative style of military clothing takes a strong nod to Scandinavian knitting tradition.  The contrast between highly protective and sporty outerwear pieces in nylon and other stiff fabrics, and baggy hand-knits and nonchalant, worn shirts matched with comfortable pants, all evoke a casual image of a traditional Scandinavian style with a raw twist.  Since graduating, he has been working with Diesel, and won the world's most prestigious fur competition, The Golden Fur Pin.  He was recently chosen to create a limited edition hand-knit for the forthcoming b Store/Selfridges Pop-In Store later this year." Hans Madsen Official Website [London Fashion Week]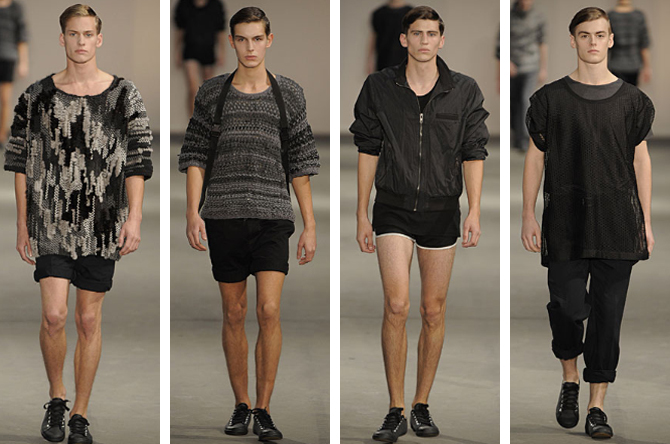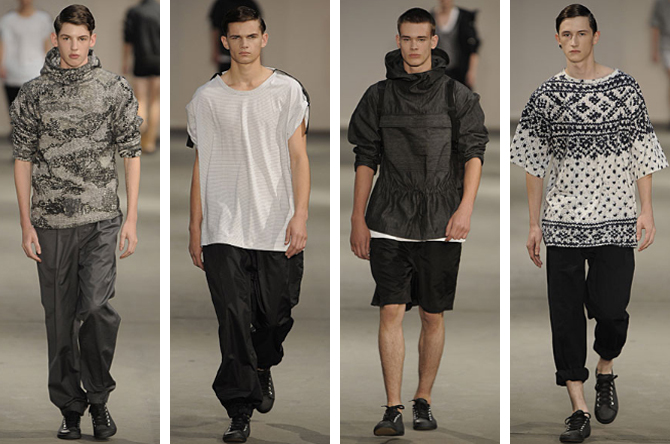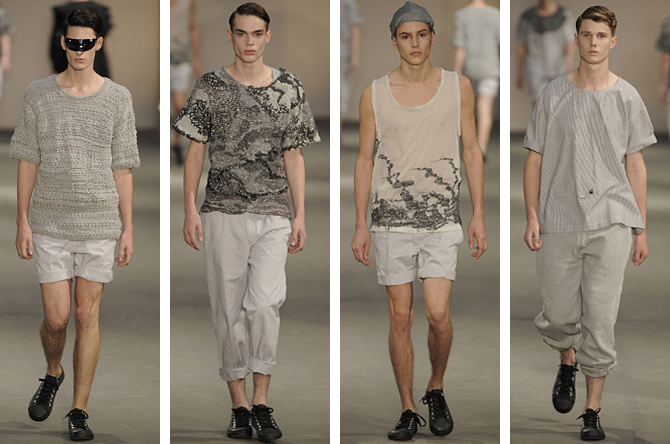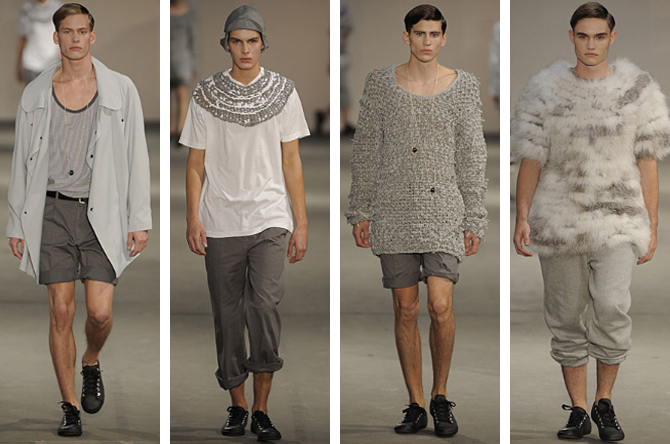 James Long
"Graduating from The Royal College of Art with an MA Menswear/Accessories, James Long studied his BA at London College of Fashion, moving to London from Northampton.  When GQ Associate Editor and MAN panel member Charlie Porter purchased several pieces from his graduate collection he knew he was onto a good thing, with various editorials featuring his work to follow; Dazed & Confused, i-D Magazine, Another Man, Numero and many more with special commissions for Italian Vogue.  Working from his Hackney studio, he mainly works with leather and sheepskin combining them with modern materials such as gauze netting and plastics, to create battle-ready hard silhouettes.  He channels his sculptural accessories knowledge into clothing, preferring not to work from blocks.  He regards his clothing as a type of protection.  He has just been nominated alongside 7 international designers for the Amsterdam Denim Award and has just done a collaborative project with Dazed Japan.  For Spring/Summer 2009, he will collaborate with Jeffery West on footwear."   James Long Official Website [London Fashion Week]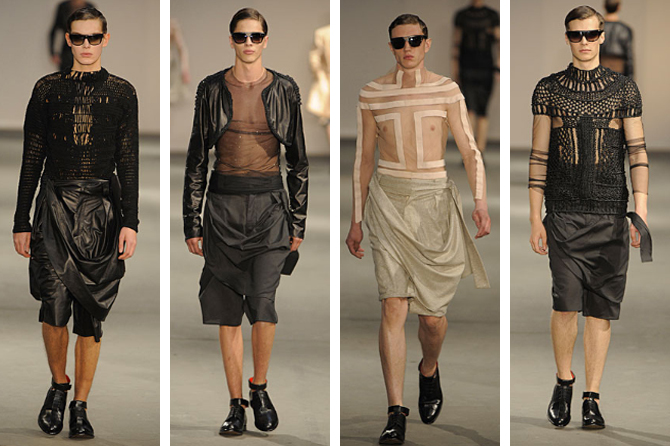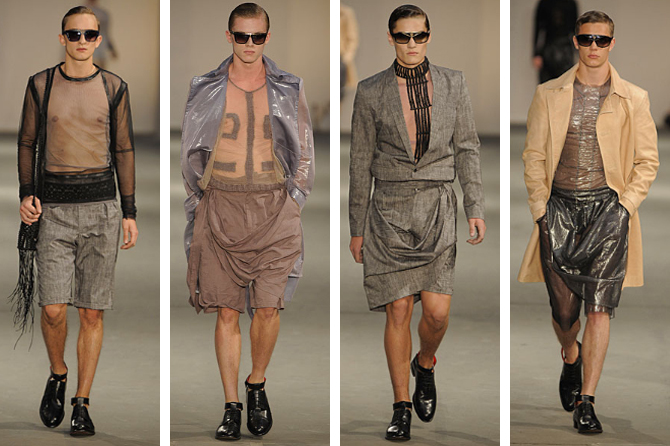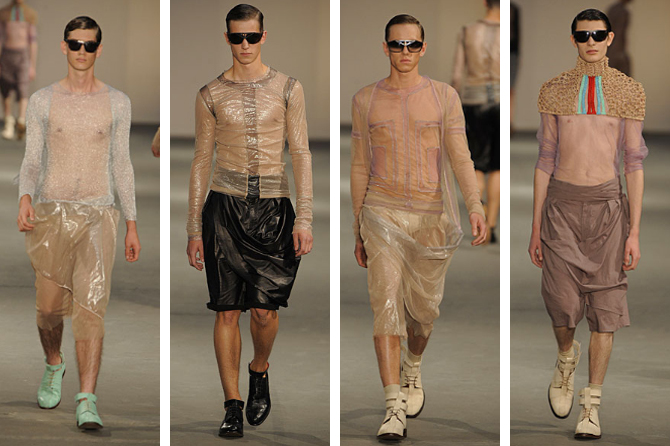 Enjoyed this update?