A Week of Louis Vuitton-Approaching the upcoming fall/winter 2012 season with a pre-collection of seven pieces, Louis Vuitton looks to iconic outerwear ranging from the parka to the windbreaker for a smart urban showing. Inspired by New York City's many areas, Louis Vuitton's luxe pieces take on the energy of dynamic hotspots that include the West Village, Soho and Park Avenue.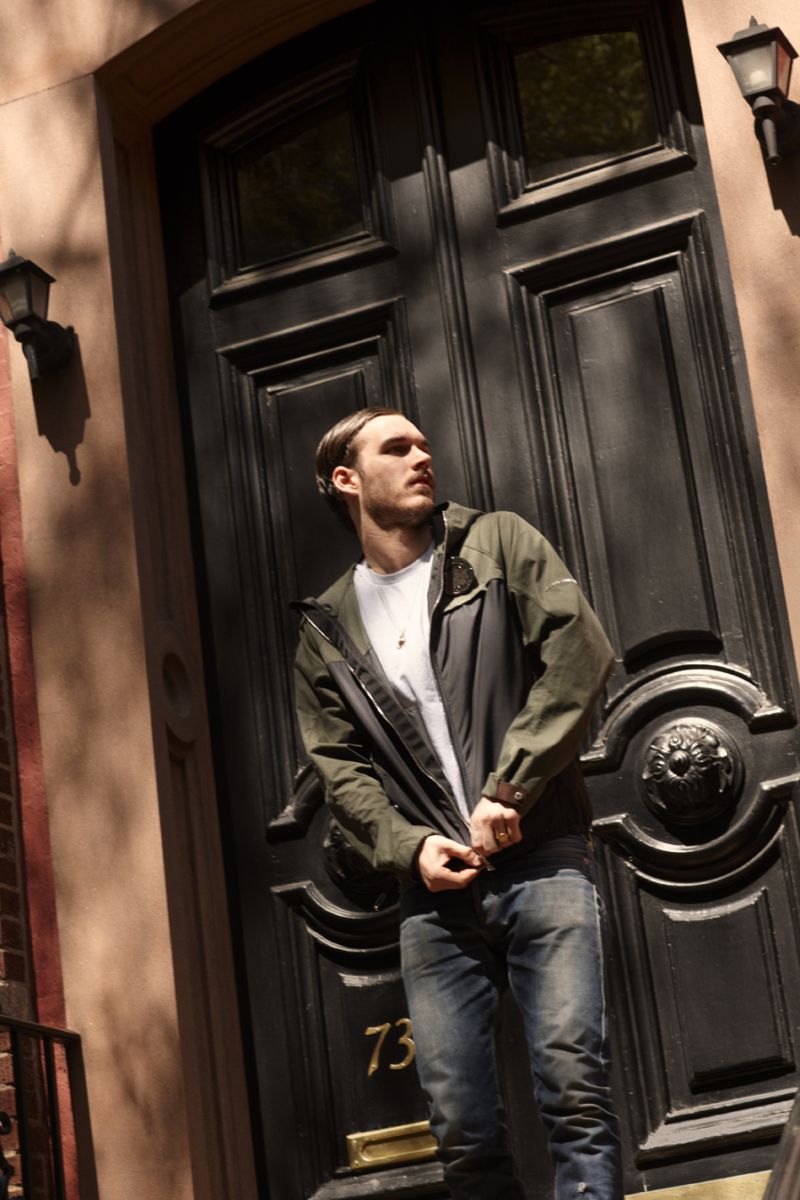 West Village-The Windbreaker
"An essential travel piece in a time-tested shape to repel the elements, the Louis Vuitton windbreaker has an adjustable hood with leather visor, leather zip pulls and engraved snaps in mix of polyamide and unique "Ventile" cotton developed for the army for fighter pilots to repel water naturally."

Central Park-The Multi-Pocket Parka
"The reporter's jacket is an urban sport hybrid in water-repellent cotton and wool combining an outdoor look, utility and classic jacket construction. Inside is a detachable, V-quilted blouson which can be worn on its own. Gusset pockets in nylon lay flat or expand on a wool body and stress points like cuffs are also in nylon to withstand the elements."

Soho-The Peacoat
"The timeless peacoat lightens up, while staying warm in double-faced cashmere. The grey exterior and blue check interior – two layers woven together – feature perfect "inside outside" finishing with calfskin tabs on pocket openings, horn buttons and a leather buckled strap with Gaston- Louis "V" stitching on the collar."

Park Avenue-The Shearling Jacket
"Light, but substantial, Louis Vuitton's shearling jacket has been studied to conserve its classic qualities in minimum weight with maximum warmth. In bicolor calfskin leather and shearling with a light, tight curl, there are multiple pockets for practicality and style, Gaston-Louis "V" stitching on the inside collar and leather tabs with Gaston stitching for the undercollar."

East Village-The Down Jacket
"Ideal travel down in nylon with goose feather lining featuring a shearling collar and detachable hood and sleeves with double entry pockets and water-repellent leather trim. Lined in blue check flannel shirt cotton, this is a man's ultra classic in sophisticated materials which provides an adjustable, lightweight response to the chill factor."

Financial District-The Business Parka
"Louis Vuitton's parka means business in water-repellent grey flannel cashmere with a detachable beaver collar. This is a luxurious and functional piece with goose feather padding, detachable lining with beaver front, leather pocket openings with painted edges and leather rib."

Bowery-The Leather Blouson
"Moving across the seasons from winter chill to early spring, the military-inspired leather blouson is very refined, but relaxed. With detachable beaver collar and leather ribbing at cuffs and waist in black purple deerskin, this piece is both ideally lightweight and soft."
Enjoyed this update?