Fringe Benefits | Introducing Astray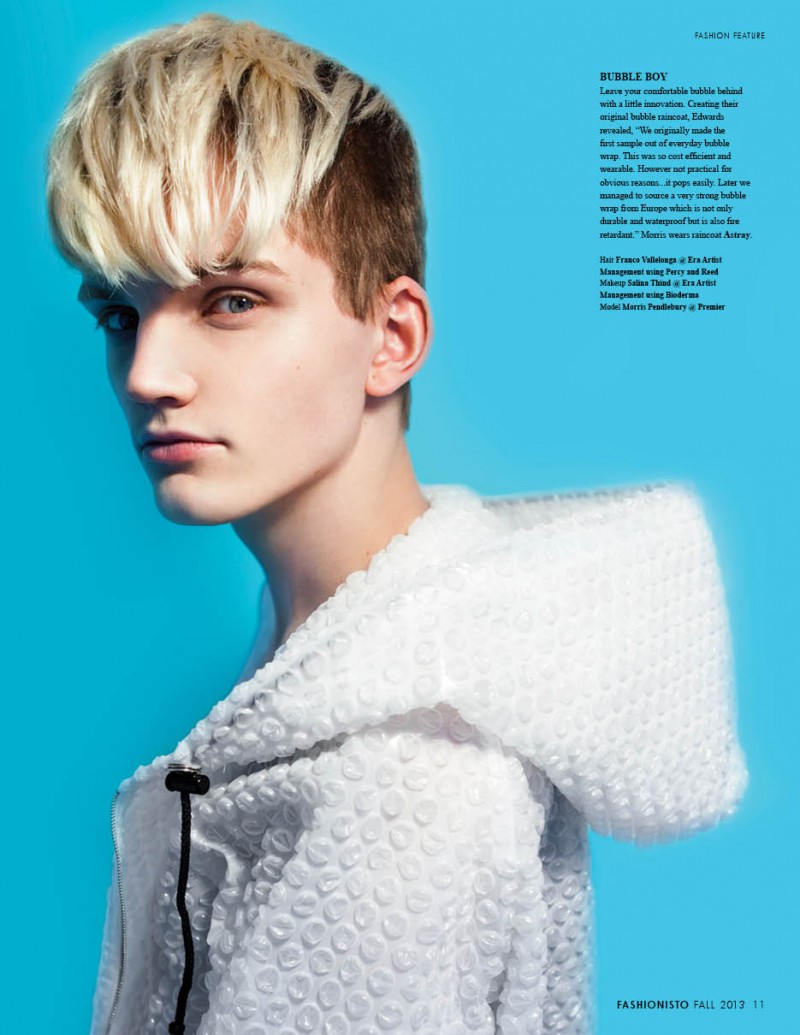 London label Astray has a quirky modern attitude. Looking to worldwide cultures for a fun new perspective, ordinary materials like bubble wrap are reinterpreted for the extraordinary.
As luck would have it, film director Ben Charles Edwards and model Oxford Nielsen came to be acquaintances after a chance New Orleans introduction in 2010. Edwards recalls that they "both happened to be the only two customers in this tiny little wooden hut of a cafe next to the Crescent City connection bridge." The cafe's hostess struck up a conversation with Edwards and Nielsen.
Recalling her younger years in London and old clothing stores on Kings Road, "she created such a wonderful picture of London gone by." In exchange for a pleasant conversation, the hostess offered them their meals on the house and "placed a line of salt crystals" below Edwards' chair "in the shape of a two-sided triangle with a small line coming from the left side." When asked what it meant, she said "'Nothing darling. Just think of it as protection…or good luck if you like.'" She smiled and left, not realizing the profound impact she had made on the two men.
Sharing a cab together back over the connection bridge, the two came to the consensus that on their return to London, they had to create a range of garments inspired by the lucky patterns. Nielsen, a model felt like he could take his experience and apply it to the formation of their label. "Modeling is unusual. You spend all day standing, being plucked and tucked. The entire shoot is based on shaping you into what somebody else wants. However, this rather passive position within the fashion industry has one major advantage; from your place on set you become a satellite dish for information." Picking up the tips and tricks of the trade, Nielsen felt that he "could be model, stylist, and creative director all at once."
Taking their inspiration from fringe cultures worldwide, Astray was launched as a unisex label. Providing a conceptual spin on streetwear and basic essentials such as the hooded sweatshirt, Astray's bubble wrap jacket came about after researching Haitian culture. Edwards and Nielsen were out to dinner with a friend who upon hearing about Haitians, their traditions, beliefs and emphasis on protection remarked that it was "'similar to wrapping yourself up in bubble wrap.'"
The idea stuck but while the typical bubble wrap was an economical material for construction, it wasn't practical – it popped. Moving on to a stronger bubble wrap they found in Europe, they were able to create the perfect functioning festival raincoat. Offering purpose and charm in an interesting package, Astray was born. Taking the next logical step, Astray plans to continue with their theme of protective outerwear, looking to other extraordinary fabrications to finish their clothes.
Article originally appeared in
Fashionisto
#8. Photo by
Dennis Weber
. Styling by
Kenny Ho
. Model: Morris Pendlebury @ Premier. Hair by Franco Vallelonga @ Era Artist Management using Percy and Reed. Makeup by Salina Thind @ Era Artist.