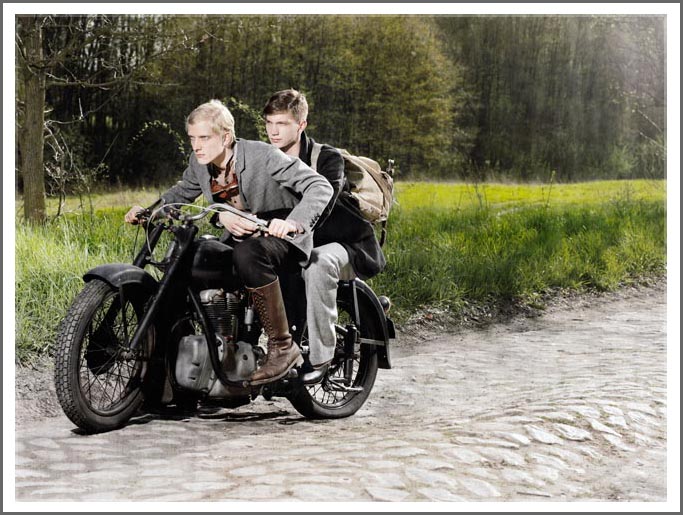 Pictures from Frank Leder and by Gregor Hohenberg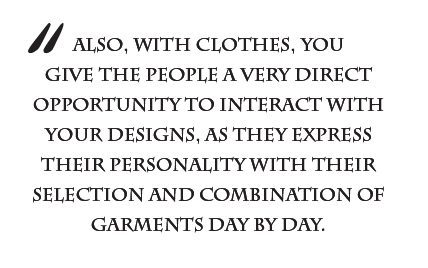 Designer Frank Leder received his BA and MA from Central Saints Martins College of Art and Design.  As an excellent learning experience, Leder began his line in the midst of his education. After graduating, Leder worked as a stylist for fashion magazines such as i-D, before moving back to Berlin in order to further his self-titled line.  Inspirational and profound, Leder's collections are deeply rooted in German culture and history.  From the design process to little details such as vintage buttons, Leder puts immense thought and meaning into everything.  Leder also pays great attention to the production of his collection.  Often using traditional German fabrics, his line is completely produced in Germany with the highest standards of quality in mind.  Consisting of work-inspired outerwear, shirts, and trousers among other pieces, Leder's winter collection, "Vagabund" is a "homage to the free spirit" of the men who roamed the "countryside of the Hinterland."
Q & A
How did fashion draw you in?
Fashion gives me the opportunity to share my artistic vision in a much more democratic way as it would be possible, lets say in fine art.  Through the un-limitation of items, every person interested in my work can own a piece as in opposition to fine art, where the artistic work is limited and therefore unaffordable for most of the people and can only be purchased by collectors or museums.  With fashion, you are forced to design every season, which gives the work always a certain refreshment and push forward.  Also, with clothes, you give the people a very direct opportunity to interact with your designs, as they express their personality with their selection and combination of garments day by day.
What is your fashion background?
I have a BA and MA  in Fashion Design at Central Saint Martins, starting to sell my first items of clothing, while still a student in college. I felt the necessity to start my own label before graduation in order to learn in a real environment. I continued presenting my collections in London, mostly in a unorthodox way, the same time I contributed as an art director and stylist to various fashion magazines like i-D and Sleaze Nation.  6 years ago, I moved to Berlin in order to be able to set up my [own] company in a proper way and to be able to meet the demand for my offerings.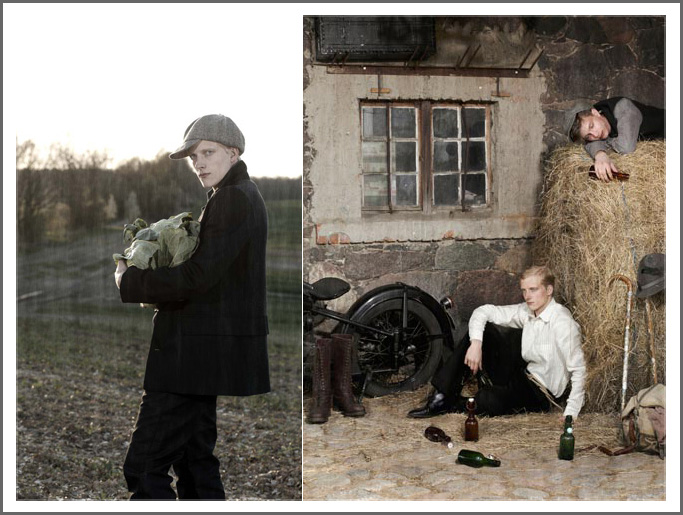 What designers do you like?
I rather look to writers, fine artists, and photographers for inspiration. A lot of them are also my friends I hang out with and who appear regularly in my publications and look books. Working with those people is widening my point of view and injects new ideas and directions into my work. One of these friendships led to a new label, bordering between art and fashion called The Essence with  Austrian singer/songwriter Florian Horwath.
How did your own line come about?
Fashion for me is a way of presenting my artistic vision.  I use my collections to create a very unique setting, which draws inspiration from a Germany of the past and translates that into an essentially modern approach. The clothes I design act as the storytellers and transport the ideas into a grounded form. [It is] important that my clothes are always wearable and interesting to look at, and that they settle into my given context.
What is the production process from idea to finished product?
Each collection is an addition to the niche I have created and  gives form to a bigger picture. The selection of high quality fabrics, mainly from small specialist suppliers in Germany, Austria and Switzerland is very important as are details [like] vintage buttons, which I nearly always use for  my designs. The packaging solutions  of garments and items is a  point which is equally important to mention. All garments are made in  factories all over Germany, which allows pretty perfect quality control. As we are a small company, we are highly flexible and can take care of our orders in a much better way than being a major label.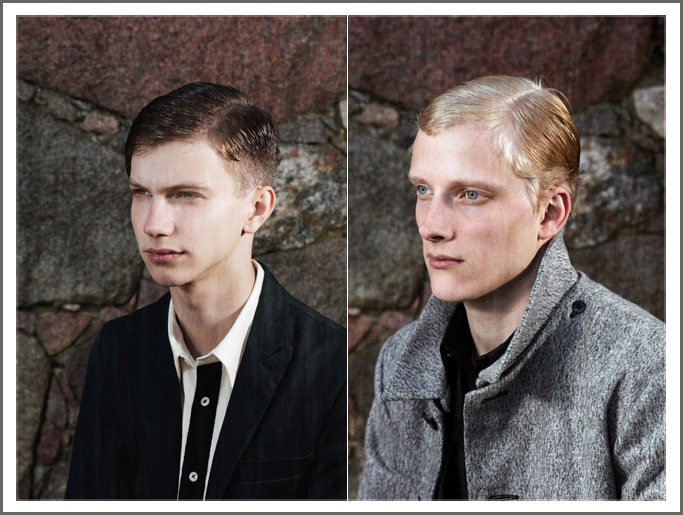 What inspired this collection?
Our recent collection "Vagabund", is a homage to the free spirit of men roaming the countryside of the Hinterland. It was inspired by the secret sign language called "Rotwelsch". The decision to work with Hinterland as an ongoing theme for the last three collections was to tell an ongoing story, to give the theme and characters the necessary space to breathe and time to develop and do it justice. The Hinterland as such  is and will be  a big part of the Frank Leder universe. It was important to showcase  that imagery to define the Frank Leder body of work and to set a foundation for future things to come.
I am often trying to explore groups of men, their  rituals and habits, their codes and hierarchies in my collections. To look behind those facades and cliches and try to determine the reality and hidden structures. That was very important in the Hinterland trilogy as well. The autumn/winter 07/08 Hinterland collection was an exploration in the world of miners digging deep in the mountains for erz.  Erz has an almost mythical importance in German history and cultural understanding as a werkstoff.  Those men have a strict organization, with [their] own language, codes and are very proud of their tradition.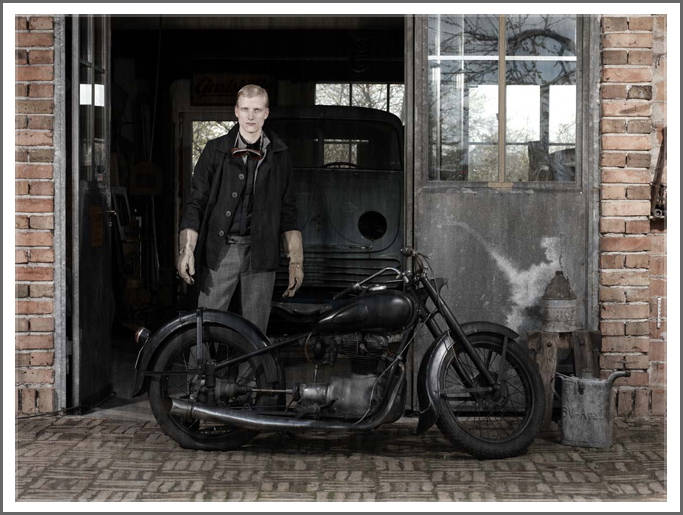 Because working in a mine is dangerous, these men have to trust each other 100%,  so orders have to be adhered to like in the military. There are different ranks for different work people. There is for example, the steiger who is responsible to get the people back to the surface. He has a special uniform which distinguishes him from the other workers like the knappe.
The people have a long tradition, which led to the development of special words (arschleder= piece of leather, to be bound on the trouser for work purpose, mooskappe= special helmet, kaue= washing room with little baskets to be hung on the ceiling for the clean clothes, and of course their greeting word: glück auf.) So already with this group we have a secret language and a close group of men being proud of their tradition with the use of special materials, traditional fabrics and interesting details to integrate into a designer's collection.
The Hinterland Trilogy
"Hinterland 2: fleisch, the spring/summer 08 collection had as a theme the butcher and his gasthaus.
Often in Germany and Austria's Hinterland, a gasthaus is attached to a metzgerei, so the butcher is also often the innkeeper. The gasthaus is the central location in the Hinterland, to come together and meet each other, to relax after work, to spend free time and to plan new adventures. So the gasthaus was the perfect theme, for the middle collection of the Hinterland trilogy. It is where all the pathes are crossing and are leading to new roads.
The erzminer can relax after work and the theme can come to a conclusion, the Vagabund (the theme of Hinterland 3) can start his adventure from here as well.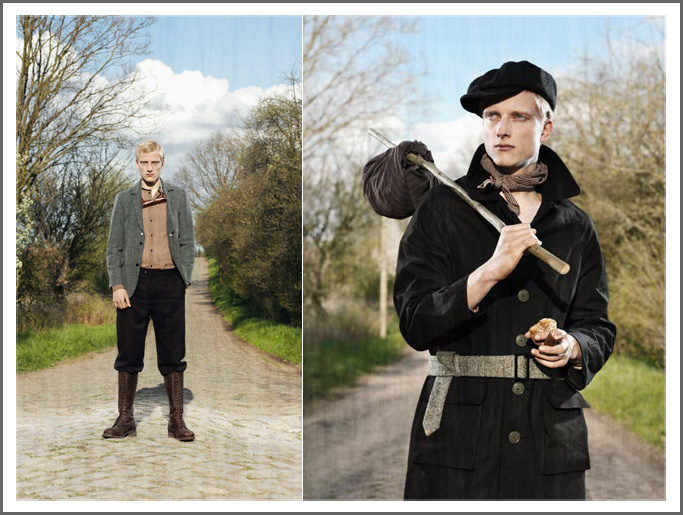 In Hinterland 2:  Fleisch s/s08 we had garments in the collection, which were dyed with strong german beer and presented and sold inside an antique beer mug from the 1930s. We dyed another group of garments with red German Hinterland wine , maturing inside the wine for three weeks and then were washed, they became a nice gray tone with a hint of red.
Some garments were packaged in metal tins, normally used for processed butcher meat. These tins were closed with an antique machine found by us in an old meat factory in the countryside. See picture from ss08. Another group was packaged like sausages and presented as such in the shops.
First was the erz mineworker theme, then  the butchershop/gasthaus theme,  and then I explored the so-called tradition of the "herrentag ", translated men's day for Hinterland 3: Vagabund autumn/winter collection 2008/09.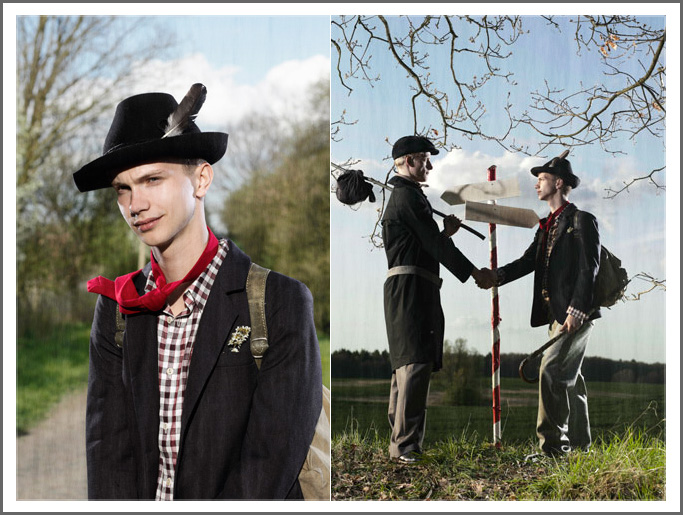 It is celebrated every year in may, mainly in the Hinterland towns in Germany. On that day, the men, after having a "breakfast" of sausage and beer (Hinterland 2) start out on foot from their small town into nature. Mainly in small groups of friends, they hike into the countryside to welcome the spring of the new year. This tradition is rooted in the German Romantic Movement; a literary and arts movement [of] the 19th century, which had in its core the romantic search for the ideals found in nature.
In order to celebrate this day, some of the men dress in pajamas. Others dress like vagabonds, in order to show their carefree mind and free spirit on that day. They hike around the countryside, singing hiking songs, drinking lots of alcohol, being adorned with bird feathers; a reference to the lightness of mind on that day, and carrying bunches of blossoming birch and lilac branches with them, bound on their walking sticks.
They pretend to be vagabonds for a day, before returning in the evening to their wive and kids, with a huge hangover. This tradition started around 1870, when the Industrial Revolution was in its hay day, [and] when more and more countryside people [were moving] to  towns and cities to start working in factories and mines (Hinterland 1), but carried the longing of carefree days in the countryside with them in their minds.
They aspired to be this ideal of a vagabond, a man living under no rule with nobody to be responsible to but himself, wandering the countryside roads only with a bag of clothes to change and a stick cut out of the woods, being happy by himself and content with nature. Not knowing where he will sleep in the evening, with no plan where to go next, just following his instincts.
This vagabond should not be mistaken for a homeless person in the city, [but] rather a person who makes the free decision to hike the countryside roads,  sometimes out of poorness, but more often, out of a sense of adventure and to break out of the daily routine. There were a lot of artists like poets and painters among them.
These men were often loners, but had an interesting way of communicating amongst their own kind. They communicated in a language called "Rotwelsch", both used spoken and as signs, which were called
"Zinken". It was a secret language only available to those in the know.  The "Zinken" (signs) were carved or chalked on doors or fences for other vagabonds to read and respond on them. So for example, if it would be worthwhile to beg at a certain  house, if there would be dog to be scared of, if the house could easily be burgled, or if work was available in this village, and so on. These signs and also complete  spoken words were given a new meaning, so the normal citizen or police could not understand what was being said. The Zinken signs were placed all over town, but because the normal citizen did not understand its meaning, they rarely took notice or mistook the signs for child's play.
The language was a mixture of German Hinterland dialect, Jewish, and other romantic languages. It was very humorous, down to earth, popular and common among traveling craftsmen and vagrants. The Zinken signs were very graphic, depicting motifs which on its first glance would not make sense. For example, a sign of two padlocks facing the opposite direction with a needle in the middle, would mean, that the person who had drawn the symbol had been escaped from  prison in this town…or a sign depicting two crossed keys next to a church with three stones in its foreground meant, three men [were] planning to break into [that] church.
The main time of these vagabonds and their secret signs and language started in the Middle Ages, when apprentices of different guilds, like the journeyman carpenters had to travel the countryside roads for three years and ask for work in the towns and villages they passed by.
The vagabonds were never organized as a group, preferring to hike alone or in small groups. Only [in] 1929 [did] a man named Gregor Gog; who was called the King of all Vagabonds, try to unite them with socialist ideas. He organized a meeting of all vagabonds near the town of Stuttgart  to call out the Brotherhood of the Vagabonds.
With the Nationalists under Hitler gaining power in the 1930s, to live like  a vagabond was forbidden and  prosecuted, as it [didn't] conform with the ideals of Nazi streamlining. After the  war, a new area had begun, in which the vagabond ideal did not survive. Only in the tradition of the  workmen going auf die waltz (specially, but not only  the carpenters)  and in the celebration of the "Herrentag" [does] it remains to this day. The carpenters have their own rules and tradition, which makes them very interesting as a group. All those rules exist until nowadays!"